Yes to a New School Year
First year dentistry students are excited!


Whether it's called a new beginning or a fresh start, a new school year represents potential, opportunity, and the best that life has to offer. All of these hopeful qualities can be seen on the faces of the 66 first-year students who enjoy the distinction of having been chosen from a pool of 511 applicants. The students, ranging in age from 21 to 33, have an overall grade point average of 3.52, with a science grade point average of 3.46.

The admissions process at LSUSD is under the direction of John R. Ritchie, DDS, M.Ed., who is also director of Diversity and Minority Affairs. Six of the new students are graduates of the Summer Enrichment Program, which Dr. Ritchie has directed since 2008.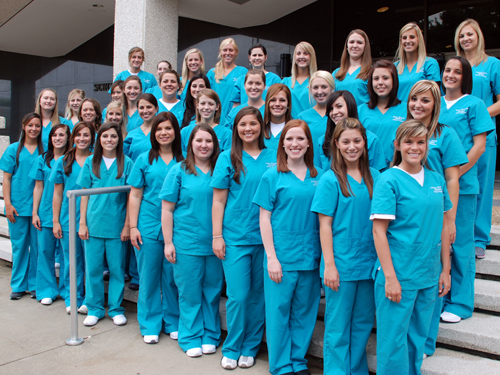 New dental hygiene students from New Orleans and Lafayette come together during the freshmen orientation.
"Our new students are a vital link in providing oral health care to the people of Louisiana," Dr. Ritchie said. "Each has gone through an exhaustive academic and admissions process. Each face represents hope for the future."
Due in part to the rigorous screening of applicants, the LSUHSC School of Dentistry has a high graduation rate, currently at 98.9%.