Taking Care of Children
A total of 195 children received free dental care at the LSUSD clinics in New Orleans and Baton Rouge during the national Give Kids A Smile Day. The services were provided by 102 LSUSD students, faculty and residents, along with five community dentists.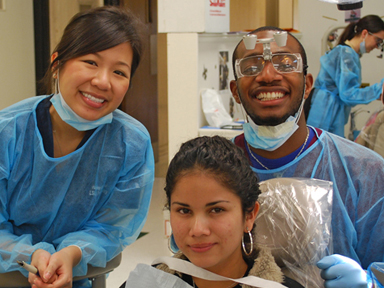 Alejandra Romera, center, was among the 20 schoolchildren who received free dental services at the LSU School of Dentistry clinics in New Orleans. Attending to her needs are dental students Haley Bui and Emmanuel Enime.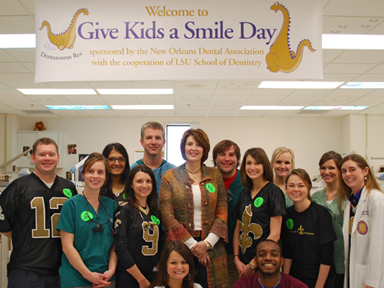 From left, Raymond Nope, Chelsea Agar, Shilpa Nileshwar, Erin Maturin, Kevin Williams, Leslie Baldwin, Dr. Claudia Cavallino, Jonathon Rusnak, Rachel Anders, Kristen Knecht, Emanuel Enime, Margaret Patterson, Karen Haynie and Dr. Janice Townsend at the clinic in New Orleans.
The event was designed by the American Dental Association (ADA) to provide education, preventive and restorative care to low-income children who do not have access to dental care. The event, part of a larger, month-long event called National Children's Dental Health Month, has the goal of developing good dental habits in children.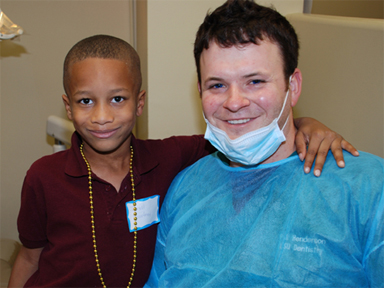 Fourth-year dental student P. J. Henderson with a student from Wildwood Elementary in Baton Rouge.
More than 2,000 events like the ones at LSUSD were held at schools and offices across America. According to the ADA, 325,785 children received free dental services from 12,882 dentists and 36,778 volunteers.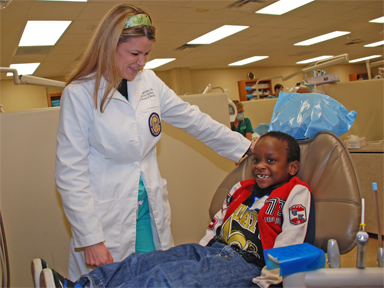 Dr. Shelley Joachim asks a student from University Terrace School how many times a day he brushes his teeth.
"I am delighted that more and more dentists participate in Give Kids A Smile Day each year," said Dean Henry Gremillion. "Reaching out to underserved populations is a win-win for everyone involved. The children benefit. Our students benefit. We are showing by our actions that we care."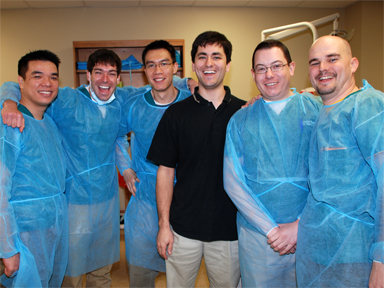 Among the 50 dental students participating in the Give Kids A Smile event in Baton Rouge are, from left, Son Nguyen, David Guidry, Anthony Chia, Michael VonGruben, Jamie Beck and Matt Ganey.
In Baton Rouge, the organizers of the event were Drs. Ben Record and Shelley Joachim. In New Orleans, the leader was Dr. Janice Townsend.
posted 3/2010