It's All About Life
LSUSD student Cheryl Campesi demonstrates the perils of smokeless tobacco to Tulane University students Amanda Foy and Jordan Krummel.
A six-member team of student volunteers from the LSUSD Dental Hygiene program was among 54 teams raising money for the American Cancer Society at its annual Relay for Life fundraiser. The event was held at the Tulane University Reilly Sports Center. Similar events are held nationwide with the objective of embracing life after surviving cancer.
"A core value of our dental hygiene curriculum is serving the community," says Geri Waguespack, RDH, M.S., professor in the Department of Comprehensive Dentistry, Division of Dental Hygiene, and leader of the student project. "In addition to raising money, we also use this opportunity to educate the public about good oral hygiene, oral cancer and the consequences of smokeless tobacco."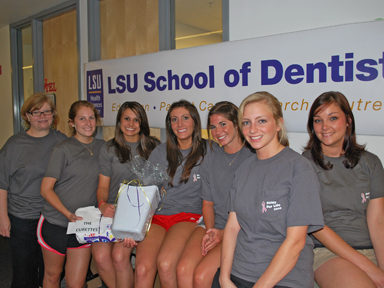 Geri Waguespack, Faculty Advisor with student volunteers Jenna Feldman, Cheryl Campesi, Katie LaBiche, Abby Villarrubia, Brittany Thompson, Sabrina Pitre.