Off to Haiti
Local leaders of the Haitian Association for Human Development, Elsie Bouchette and Dr. Yvelyne Germain-McCarthy, came to LSUSD March 25th to pick up donations from the school-wide relief effort organized by fourth-year dental student Jared Harris. The donations will be loaded on to a 100,000 square foot barge that will leave New Orleans bound for Jacmel, Haiti on April 2nd.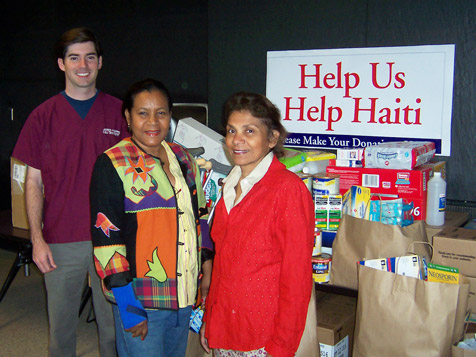 Jared Harris, Elsie Bouchette and Yvelyne Germain-McCarthy, Ph.D.
According to press reports, 1.3 million Haitians have been left homeless because of a catastrophic earthquake on January 12. The dismal situation has worsened recently because of flooding that often occurs during the rainy season that is expected to peak in May.
Dr. John Ritchie, director of admissions and the summer enrichment programs at LSUSD, worked with Jared Harris to organize the collection and transfer the donations to the Haitian Association for Human Development.