$474.7 Million for New Hospital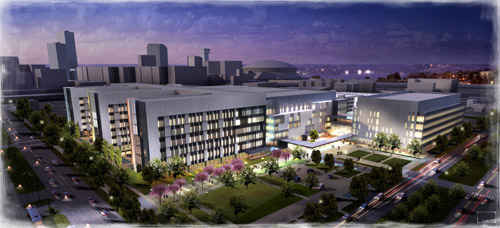 Architectural aerial rendering of the new medical center, viewed from north-northwest, reveals the CBD, Louisiana Superdome and Mississippi River in the background.
The State of Louisiana has just been awarded $474.7 million by a federal arbitration panel for damages to Charity Hospital caused by Hurricane Katrina. The announcement was made by Dr. Larry Hollier, Chancellor of the LSU Health Sciences Center. The decision ends a multi-year dispute between state and federal authorities.

Daytime rendering of the medical center from the same direction at street level.
Prior to the arbitration, the Federal Emergency Management Agency pegged the damage at $124 million and offered to settle for $150 million. The State of Louisiana and the LSU Health Sciences Center said the damage amounted to $492 million. The binding arbitration decision is a major victory for the state.
The funding clears a major hurdle in the planned construction of a 424-bed, $1.2 billion teaching hospital in lower Mid-City next to a new hospital for the Veterans Administration. The overall project is called the LSU University Academic Medical Center.
Governor Bobby Jindal previously said construction could possibly begin later this year.