Special Needs, Special Care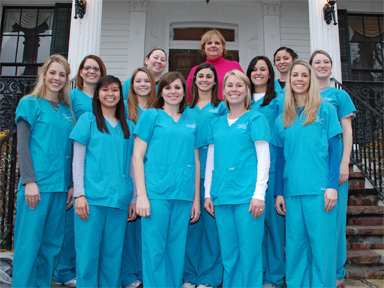 Second-year dental hygiene students with this year's organizer Karen Oertling, top center, whose son lives at Magnolia School.
Tucked away on River Road just outside the city limits of New Orleans, is the 11-acre campus of Magnolia School, a place near and dear to the students of the LSU School of Dentistry. Magnolia offers housing, vocational training, employment and a wealth of services to support people with developmental disabilities.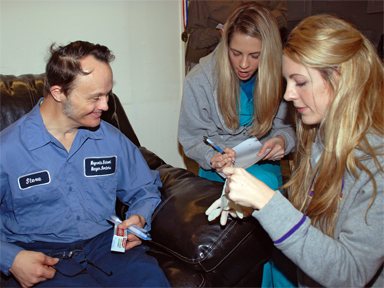 Magnolia Resident Steve Stewart with students Brittany Adams and Quincy Adams.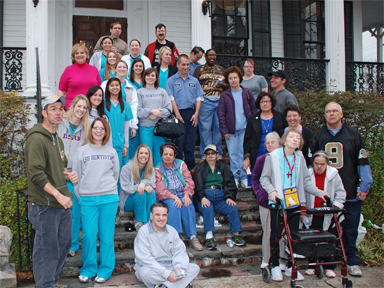 Magnolia residents and LSUSD students
Among those services are regular screenings for dental problems. This community outreach began in 2003 through the efforts of Nick Rauber, who, at the time, was a third-year dental student. His sister was living at Magnolia and he knew the special needs of this vulnerable population.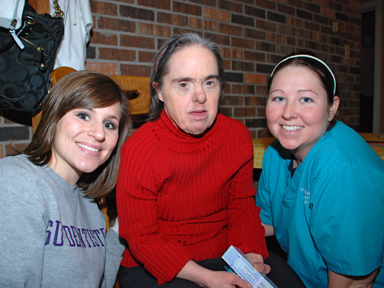 Magnolia School resident Kitty Pickett, center, has her dental condition checked by hygiene students Brandi Keller, left, and Sarah Volentine.
This year, the leader of this effort was Karen Oertling, a clinical associate professor in the Dental Hygiene Program, whose son lives at Magnolia.
"People with disabilities often have difficulty with chewing and swallowing," Oertling said. "Monitoring their condition is so important to their health and happiness."
As a result, the second-year dental hygiene students screened 20 residents and provided oral hygiene instructions, toothbrush, toothpaste and floss.