Saluting 50 Years in Dentistry:
The Loyola Class of 1960
In the family tree of dental education in Louisiana, a special branch belongs to the Loyola School of Dentistry, which taught students from 1914 until the early 1970s. At that time, a four-year transition took place during which many Loyola faculty members and leaders moved to LSUSD, thus making the new school possible. Their dedication to the profession of dentistry made the transition smooth. 

The Class of 1960 includes numerous members who exemplify that dedication. Reading  the names of the 52 people in this class is comparable to reading the "Who's Who in the History of Dentistry in Louisiana."
For 50 years, members of this remarkable class have served as leaders of the America Dental Association, Louisiana Dental Association, New Orleans Dental Association and the State Board of Dentistry. Many have received Distinguished Service Awards. They helped found the Department of Orthodontics at LSUSD. For decades, they have passed on their knowledge, wisdom and passion for dentistry by teaching at LSUSD. In fact, many of them are still teaching.
Recently, 26 of the original 52 classmates got together for a reunion, something they have done every five years since 1960. That says a lot about their dedication to each other.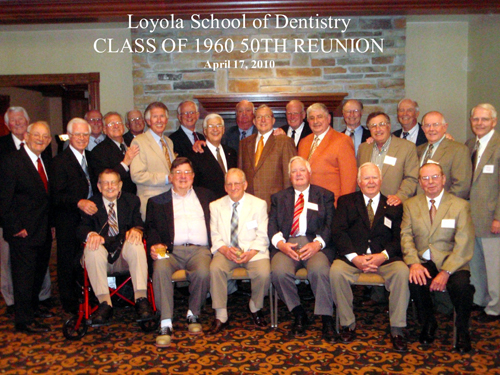 "This was the best reunion ever," said a member of the Class of 1960 at their 50th reunion.
During Alumni Day, they were applauded by the 200 attendees. There was also an unveiling of the class photo that will become part of the permanent collection of Loyola class photos. Representing the class were Drs. Milford Kathmann, Ross DeNicola and Terence Walsh.