Helping Haiti
Because of the compassion and initiative of dental student Jared Harris, an outpouring of help for the people of Haiti has begun at the dental school. The island nation was devastated on January 12 as a result of an earthquake that measured 7.0. Thus far, it is estimated that more than 230,000 Haitians have died.
As Jared explained, "It's difficult to know how to best help suffering people 1,400 miles away." Collection boxes have been set up at the dental school on the fourth floor breezeway. They are now brimming with dental, medical and hygiene supplies that will be distributed through a missionary group affiliated with Dr. John Ritchie, director of admissions.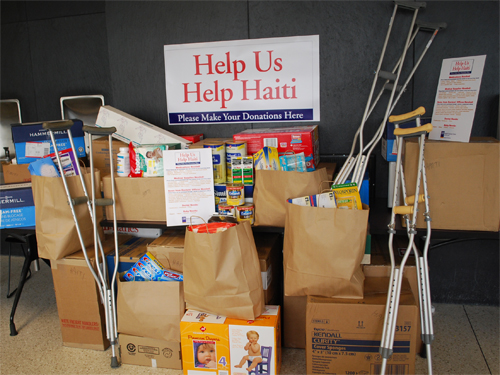 Donations stream in as the Haitian relief efforts begin at the dental school.
On a national scale, donations to U.S. organizations had exceeded $713 million as of February 10, according to the Center on Philanthropy at Indiana University. Many see this generosity during a recession the result of the country's experiences with 9/11 and Hurricane Katrina.
As noted by Jared, 6,000 people lost their lives during 9/11. As a result of Katrina, 1,836 people died and another 705 people are missing. "The recovery in Haiti, similar to what happened in New Orleans, will be a long process," Jared said.
Collection of the items below will continue as long as donations are made.
Medications Needed:
(These items can be purchased over the counter at any local drug store)
- Aspirin
- Tylenol
- Motrin
- Children's and adult multi-vitamin
- Benadryl
- Neosporin or triple antibiotic
- Oral re-hydration salts
- Cough medications
Medical Supplies Needed:
(These items can be purchased over the counter at any local drug store)
- Ace bandages
- Alcohol pads
- Band-aids
- Betadine wipes and sticks
- Gauzes- any size
- Gloves- all sizes, sterile/non-sterile
- Gowns- surgical and patient (head and shoe covers, goggles, masks)
- Pediatric supplies
- Tape- all types
- Thermometers
Items from Doctor's Offices Needed:
(These items can be purchased through a doctor or physician's office)
- Zantac
- Hypertension medications
- Blades- sterile only
- Needles- butterfly, angio catheter
- Compression stockings
- Dressings- sterile and non-sterile (Coban, Tegaderm, Steri-Strip, Surgilast)
- IV Supplies- tubing in sterile packages only
- Sponges- surgical only (includes x-ray detectable)
- Surgical towels- cloth/paper
- Sutures
- Syringes
- Tongue depressors
Dental Needs:
- toothbrushes
- toothpaste
- floss
Baby Needs:
- Diapers
- Wipes
- Bottles
- Formula