The Golden Glow of Appreciation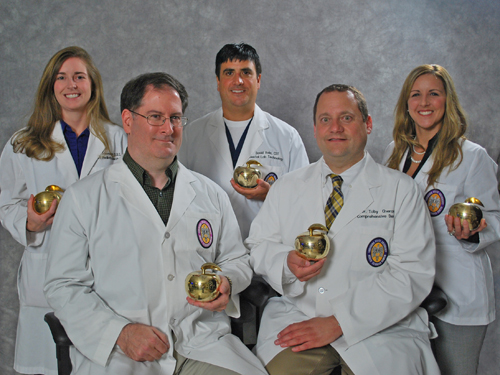 From left, Dr. Janice Townsend, assistant professor in the Department of Pediatric Dentistry; Dr. Thomas Lallier, associate professor in the Department of Oral & Craniofacial Biology; David Vela, associate professor in Dental Laboratory Technology; Dr. Toby Cheramie, associate professor in the Department of Comprehensive Dentistry and Heather Haro, clinical instructor in Dental Hygiene. (Not pictured is Dr. Jim Weir (retired), professor in the Department of Oral & Maxillofacial Pathology.)
The role of teachers in shaping lives was poignantly captured by an anonymous student who once wrote, "We think of the effective teachers we have had over the years with a sense of recognition, but those who have touched our humanity we remember with a deep sense of gratitude."
Those insights are especially relevant in the intense but caring teaching environment for which LSUSD is known. So much knowledge has to be passed on in a short amount of time and that requires dedication at every level. As a result, outstanding teachers deserve to be publicly recognized.
That is the thinking and history behind the annual Golden Apple awards. Each class in dentistry, dental hygiene and dental laboratory technology selects its top teacher. They are then given public acclaim during Recognition Day, when student achievement awards are also presented.
On May 12, Dean Henry Gremillion presented Golden Apples to Heather Haro, clinical instructor in Dental Hygiene; David Vela, associate professor in Dental Laboratory Technology; Dr. Thomas Lallier, associate professor in the Department of Oral & Craniofacial Biology; Dr. Jim Weir (retired), professor in the Department of Oral & Maxillofacial Pathology; Dr. Janice Townsend, assistant professor in the Department of Pediatric Dentistry; and Dr. Toby Cheramie, associate professor in the Department of Comprehensive Dentistry.