Vendor Fair: Good Idea, All Around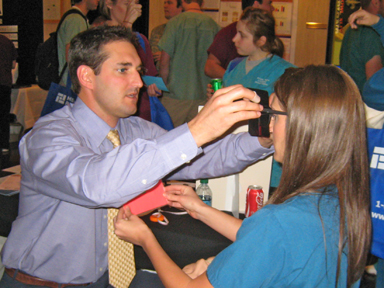 The breezeway became a showroom for new products, including
the latest in surgical eyeglasses.
More than $6,000 was generated as a result of the first-ever Vendor Fair, an initiative created and implemented by student leaders on April 13, 2011. The money will underwrite the expenses of students attending leadership training sponsored by the American Student Dental Association (ASDA). With a membership of 16,000, this national organization represents 86% of all dental students in the United States. Some of the funds will also support local charitable projects. The larger purpose of the fair was to begin to establish relationships between future dentists and businesses that support the field of dentistry.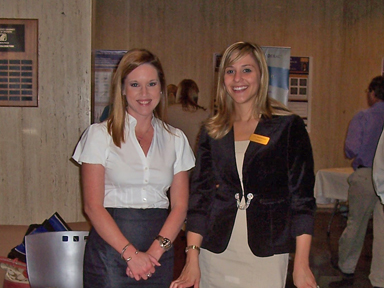 Representing the insurance company, LAMMICO, were
Kendall Ankesheiln and Liz VanDervort.
About 200 students attended the event, which was organized by ASDA officers Renee Bourgeois, Erica Hender and Katie Evans. "We've heard nothing but positive feedback from the student body," said Bourgeois.
The 16 businesses that participated were ADS South, Benco Dental, Campus Federal Credit Union, Delta Dental, Designs for Vision, Elavon, GlaxoSmithKline, LAMMICO, Medical Protective Corporation, Louisiana Army National Guard, Ocean Dental, Orascoptic/Kerr, Phillips Sonicare, Premier Dental, and Robert Ellis and Associates.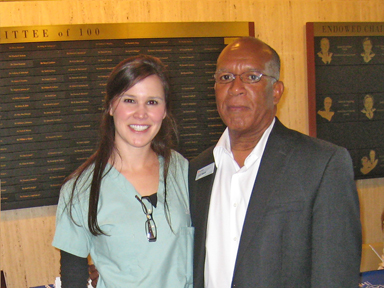 Erica Hender, one of the organizers of the event, with Cyril Palacio,
the executive dental school consultant for GlaxoSmithKline.
"These are major companies," said Hender. "It was a compliment to the dental school that so many agreed to participate in this first-time event."