Partners in Care

Because outreach is one of the four primary components of the LSUSD mission, the school strives to deliver and expand oral health care in the New Orleans community. The Department of Pediatric Dentistry exemplifies the ways in which faculty and students work together to secure funding from external sources to provide dental care to underserved populations.
To kickoff Children's Dental Health Month in February, dental student Evan Tatford, American Student Dental Association D2 class representative, coordinated Lessons in a Lunchbox, partnering with the Student National Dental Association, American Academy of Pediatric Dentistry (AAPD) Student Chapter, and the Childrens' Oral Health Institute. On February 2, dental students visited ReNEW McDonogh City Park Academy on Esplanade Avenue in New Orleans, meeting with 77 second- and third-graders. A national program involving 35 dental schools, "Lessons" matches LSUSD students with elementary school students to teach flossing and brushing, discuss nutrition, and inspire interest in the dental professions. Evan was accompanied by fellow second-year students Bryant Bourgeois, Jacee Blades, Kevin Phung, Natalie Childress, Emily Guarisco, Akia Davis, Tami Nguyen, Seaira Miles, and Branford Smith.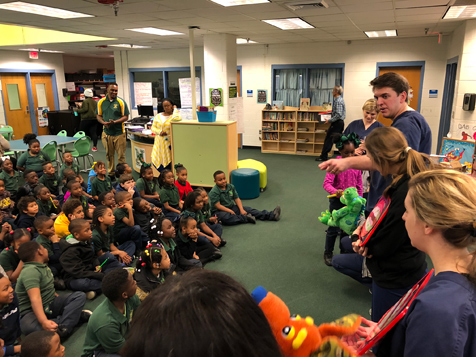 Evan Tatford leads Lessons in a Lunchbox at ReNEW McDonogh City Park Academy
For the 2018 Give Kids a Smile Day (GKAS) held on February 23, LSUSD partnered with Esperanza Charter School, which has a large proportion of children of recent immigrants. When Esperanza was a partner three years ago, the children were found to have a high rate of dental disease; many had barriers to follow-up care because they were not eligible for Medicaid.

The LSUSD AAPD Student Chapter, under the direction of third-year student Courtney Brashier, led the day's events. Over 200 students, faculty, and alumni volunteers helped to make the day a success. Eighty-eight parents of the 116 third- and fifth-graders from Esperanza who attended the event consented to a dental screening for their children. These students received dental exams as well as cleanings, sealants, and fluoride treatment.

Students participated in games, displays, and videos promoting oral hygiene and healthy food choices. Athletes from NFL Play60 involved students in football and running drills; magician David Vela, associate professor of dental laboratory technology, entertained the children; and to end the morning, students, parents, and teachers enjoyed a healthy box lunch sponsored by the New Orleans Dental Association. To remember their day, the students took home pictures from an interactive photo booth, made possible through generous support by Campus Federal Credit Union.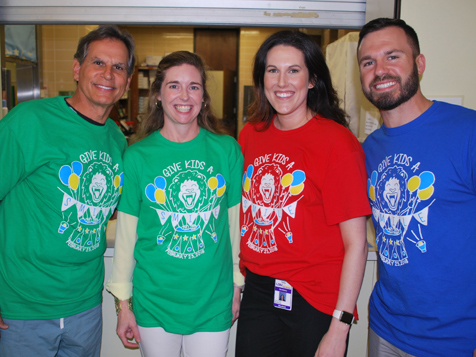 GKAS participants (l-r) Drs. Rob Delarosa and Janice Townsend, students Courtney Brashier and Bryant Bourgeois
To fund continuing dental care for children after GKAS Day, the Department of Pediatric Dentistry has been awarded a grant in the amount of $12,500 from the American Dental Association Foundation. With this one-year Continuity of Care Grant coordinated by Suzanne Fournier, DDS, director of advanced education in pediatric dentistry, the department will expand an ongoing program to provide comprehensive dental care for 200 additional uninsured, low income children. The program will be marketed through partners, Catholic Charities, Puentes New Orleans, and Esperanza School, all dedicated to caring for the underserved with an emphasis on recent immigrants.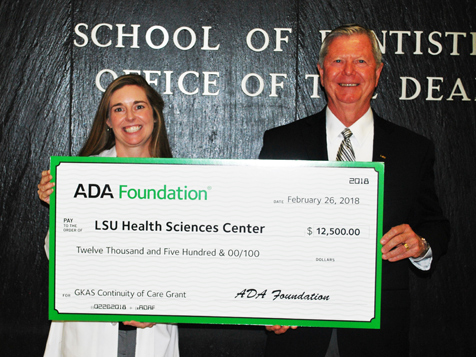 Dr. Janice Townsend and Dean Gremillion display the Continuity of Care Grant award from the ADA Foundation
Janice Townsend, DDS, MS, head of the department of pediatric dentistry, has received the 2018 ADEA/Colgate-Palmolive Co. Excellence in Teaching Award, given to "one dental educator who demonstrates exemplary standards and promotes excellence in dental education through scholarship and innovation." The award of $12,500, intended to enhance the recipient's teaching efforts, was presented to Dr. Townsend at the American Dental Education Association Annual Meeting in Orlando in March. Dr. Townsend dedicated her award funds to the enhancement of the faculty development program at LSUSD.