Caring for the Homeless

Ozanam Inn recently honored the LSUHSC Schools of Dentistry and Medicine and Tulane School of Medicine for their weekly student-run clinics providing free medical and dental care to the homeless and needy. At the 37th Annual Ozanam Inn Gala held in October, the deans of each of the three schools represented their students and faculty members who serve at the weekly clinics.

LSUHSC students see patients on Saturdays while Tulane students operate a clinic on Sundays. The medical program was already established when the dental school joined the effort five years ago. Under faculty supervision, students treat about 500 individuals a year.

Ozanam Inn, located at 843 Camp Street in downtown New Orleans, is a non-profit, direct service agency serving the homeless and needy regardless of race, color, creed, religious preference, or national origin. All of its services are provided free of charge. The Inn was established in 1955 by the Society of St. Vincent de Paul, a Catholic lay service organization dedicated to helping the poor. While the Inn provides overnight shelter to males only, both men and women are eligible for the medical and dental care.

Providing dental care to the less fortunate citizens of New Orleans has become a habit for this dedicated group of LSUSD dental students and faculty members. Totally student-run and voluntary, the dental care is provided interprofessionally with LSUHSC medical students. Four dental students administer and manage the program. This year the administrators are third-year students Brooks Hummel, Jeffrey Toler, Mandy Ford, and John Michaelis. Supervising faculty members Sherrod (Shade) Quin, DDS, assistant professor, and Suezan McCormick, DMD, assistant professor, both in the Department of Comprehensive Dentistry and Biomaterials, Division of Clinical Comprehensive and Operative Dentistry, have been exceptionally dedicated to the project since its inception in 2013.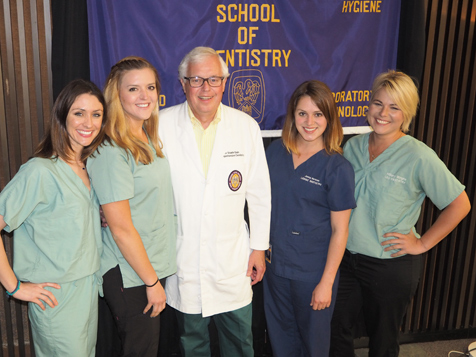 Dr. Shade Quin with Ozanam Inn dental clinic founding students,
(l-r) Stacy Owens, Sydney Guidroz, Jenny Herman, Hillary Wright
Every Saturday from 9:30 a.m.-2:00 p.m., six dental students provide dental exams and extractions for six or seven patients at Ozanam Inn. LSUSD supplies materials and instruments for the care of these patients in one operatory with one dental chair. Students, who receive no academic credit for working at the Inn, are members of all four dental classes. First-year students assist while second year students administer anesthestics, but only after completion of their local anesthesia course. Third- and fourth-year students extract teeth. A portable dental x-ray unit is an invaluable asset in the clinic.

A strong desire and commitment to serve the needy is required of students who participate in the program. The Ozanam Inn clinic provides hands-on training in managing dental care of vulnerable patients in less than ideal situations. Although students coordinate all aspects of the program, it would not be possible without the constant dedication of Drs. Quin and McCormick, who show up every Saturday during the school year to supervise procedures.

LSUSD alumni Drs. Stacy (2017) and Reid Owens (2014) were active in launching the dental clinic at Ozanam Inn. The founding students recruited faculty members to supervise treatment at the clinic. Enthusiasm gradually increased among students in the first- and second-year classes until students in all four classes became committed to working at the Inn. Jenny Herman, one of the founding students, said, "The benefits of the learning experience at Ozanam Inn are equal to the satisfaction gained from helping the underserved." Drs. Hillary Wright and Jenny Herman, currently residents in periodontics, are proud of the continuing strength of the program they helped develop.

Ozanam Inn is one of the many beneficiaries of LSUSD student outreach activities. An early example of interprofessional education, it exhibited the benefits of medical and dental students working in the same clinic. As an example of a student-run volunteer clinic, this project clearly demonstrates LSUSD student determination to help the underserved and less fortunate among us.