Educating Leaders
In 2013 Suzanne Farrar, RDH, MSHCM, associate clinical professor and director of clinical staff and patient services, established an Honors in Leadership program at LSUSD. This year, for the first time, the honors program includes all three disciplines: dentistry, dental hygiene, and dental laboratory technology. Participants during the 2018-2019 academic year are two dental students and one student from each of the other two programs.

Requirements for successful completion of Honors in Leadership include school service, community service, and involvement in organized dentistry. Professional development, taught in courses in each academic program, is also a required component. To document their leadership activities and projects, students must prepare a portfolio to present to the Honors in Leadership Committee. At the end of senior year, each student also presents a summary of the project at Grand Rounds Day.

With the goal of increasing minorities in dental schools, dental student Celeste Edwards is working with predental students to establish an Undergraduate Student National Dental Association (USNDA) at Dillard University, a local historically black college. As members of a chartered chapter of the USNDA, Dillard students will benefit from mentorship, scholarship, and shadowing opportunities.

In the second project, collaborators Alli Beth Blanchard, dentistry; Sophie Babineaux, dental hygiene; and Jorge Rodriguez, DLT, produced mouthguards for members of LSUHSC intramural sports teams, which include students from the six schools of the health sciences center. With donated materials, volunteer dental and dental hygiene students took dental impressions of 30 students. DLT students then poured models and team members completed production of the mouthguards, which they delivered a week later to the student athletes. This leadership project exemplifies an effective application of intra- and interprofessional education.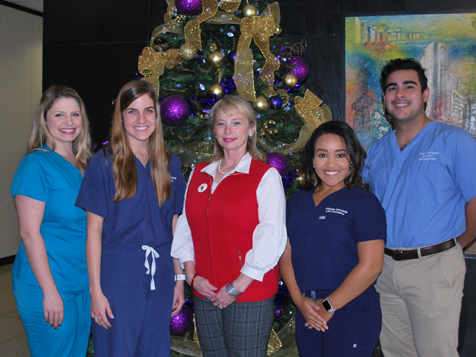 Honors in Leadership participants (l-r) Sophie Babineaux,
Alli Beth Blanchard, Suzanne Farrar,
Celeste Edwards, and Jorge Rodriguez
Hygienists Celebrate Their Profession
To recognize National Dental Hygiene Month, LSUSD dental hygiene students and faculty (members of the Department of Clinical Comprehensive Dentistry and Biomaterials) sponsored two events in October. On Friday the 5th, students organized a one-hour session on oral health at Children's Hospital of New Orleans. Via nutrition and storybook stations, games, puppets, and an interactive table, twenty patients, along with their parents and siblings, learned about the importance of proper oral hygiene. The successful event, organized by second-year students Victoria Stein and Sarah Beth Roberts, was supervised by faculty members Heather Allen, RDH, MSHCM, assistant clinical professor, and Carla Dunn, RDH, clinical instructor. Also participating were Hannah Ducote, Alana Blanchard, Danielle Pierce, Maddi Thibodeaux, and Katie Richard. Students plan to hold another event at the hospital sometime in the spring.

On October 23, dental hygienists celebrated their profession at an annual luncheon hosted by the LSU Student Chapter of the American Dental Hygienists' Association. Invitees were all LSU Dental Hygiene Program students and faculty, hygienists practicing in other departments at the school, and dental students who are also hygienists. About 80 dental hygienists in all enjoyed the celebration, generously sponsored by GlaxoSmithKline. SADHA advisors Tricia Barker, RDH, MEd, assistant clinical professor, and Geri Waguespack, RDH, MS, professor (clinical), helped organize the luncheon.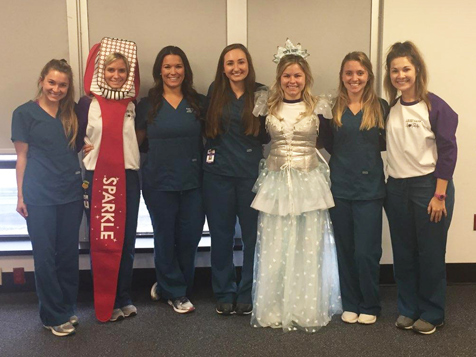 Dental Hygiene students at Children's Hospital Outreach:
(l-r) Alana Blanchard, Sarah Beth Roberts, Katie Richard,
Danielle Pierce, Hannah Ducote, Maddi Thibodeaux, Victoria Stein