Filling the Gap in Orofacial Pain
LSU Health School of Dentistry is working to address a dire shortage of orofacial pain experts. The statistics on orofacial pain and its impact on the U.S. population are staggering. According to the American Academy of Orofacial Pain (AAOP), 25 to 35% of the population have a current orofacial pain problem severe enough to warrant treatment. Right now, more than 9.7 million people go untreated with an additional 1,000 new patients each year per orofacial pain dentist.
The field of orofacial pain is concerned with the prevention, evaluation, diagnosis, treatment, and rehabilitation of orofacial pain disorders. Types of orofacial pain include temporomandibular joint disorders, masticatory and cervical musculoskeletal pain, neurovascular and neuropathic pain, sleep disorders, headaches, and other systemic disorders causing orofacial pain.

Based on AAOP estimates, close to 10,000 new orofacial pain dentists will be required to meet the minimal access to care demands. This is about the same number of oral and maxillofacial surgeons in the country in clinical practice. Since only 110 current specialists are expected to graduate from orofacial pain advanced education programs in the next five years, a major inadequacy exists in meeting patient access to care needs.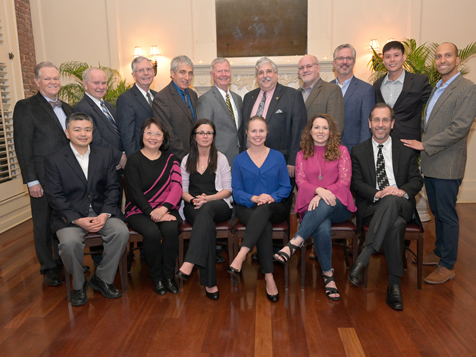 Graduates and faculty members of the
Sixth LSUSD Orofacial Pain Continuum, 2019-2020
Based on the AAOP membership list, only 250 dentists nationwide treat orofacial pain disorders. Seven of those dentists reside in Louisiana, and of those, four are full-time faculty members at LSUSD. According to the AAOP, only 13 health science universities in the country offer specialized training in orofacial pain, and only two, the University of North Carolina and the University of Kentucky, are located in the United States southern regions. No orofacial pain educational programs exist in the Deep South; the majority are located in the northeast and the west (California).

More than 90 percent of dentists and physicians admit to being inadequately trained to manage orofacial pain patients or to refer these patients to an orofacial pain dentist. At LSUSD the faculty is presently working to fill the gap through the LSUSD Orofacial Pain Continuum. The program, offered through LSU Health Continuing Dental Education, is taught by Dean Henry Gremillion, DDS, MAGD; Dale Ehrlich, DDS, MS; Gary Klasser, DMD; and Christopher Spencer, DDS, all LSUSD faculty members with extensive education and experience in the treatment of orofacial pain. Prior to joining LSUSD as dean, Dr. Gremillion was the Parker E. Mahan Endowed Professor in Orofacial Pain in the Department of Orthodontics at the University of Florida College of Dentistry. He also served for 17 years as the director of the UFCD Parker E. Mahan Facial Pain Center and its fellowship program in craniomandibular dysfunction. Guest lecturers also contribute their expertise to the series.

The continuum is designed for dentists and other healthcare professionals interested in improving their ability to evaluate, diagnose, manage, and refer patients with TMD, sleep disorders and other types of orofacial pain. Emphasizing a low student/teacher ratio, enrollment is limited to 28 students. With the recent completion of the sixth continuum, a total of 79 graduates have completed the program.

Graduates of the continuum have expressed satisfaction with the program. Since completing the series, Dr. Amy Hartsfield of Alabama has received diplomate status from the American Board of Orofacial Pain and opened a practice dedicated solely to orofacial pain and dental sleep medicine. Praising the continuum, she said, "I am so thankful for your program, the hospitality of your program and the path it has led me on." Dr. Hana Leino Pastrnakova wrote, "I would say that not only me, but my patients certainly benefit from this course."

Continuing to make strides in the education of future orofacial pain experts, LSUSD hopes to inaugurate a three-year master's program by the 2021-2022 academic year.
Registration is now open for the seventh continuum,
June 5, 2020-February 27, 2021.
For more information or to register, go to www.LSUOrofacialPainCE.org/.