A Notable Spring
Honors at ADEA
The American Dental Education Association (ADEA) annual conference held in March in Orlando produced a number of awards for the school and members of the LSUSD community. In recognition of the innovative programs in Interprofessional Education and Collaborative Practice, the school was presented the Gies Award for Vision by an Academic Dental Institution. The Gies Awards honor individuals and organizations that exemplify the highest standards in oral health and dental education, research and leadership. This is the second time LSUSD has received a Gies Award.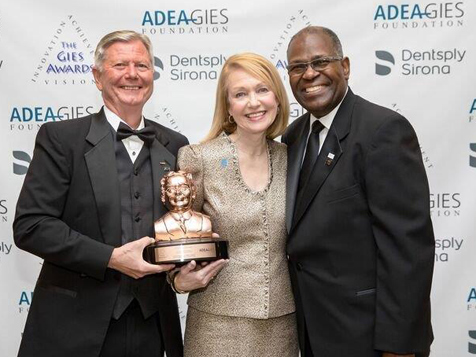 Drs. Henry Gremillion and Sandra Andrieu display the 2018 ADEA Gies Award for Vision, posing with Dr. Leo Rouse, ADEA Scholar in Residence.

Other LSUSD achievers were recognized at ADEA. Janice Townsend, DDS, MS, professor and chair of pediatric dentistry, received the ADEA/Colgate-Palmolive Co. Excellence in Teaching Award; Jane Walsh, RDH, JD, associate professor and director of the dental hygiene program, was awarded the ADEA/Sunstar Americas, Inc./ Harry W. Bruce, Jr. Legislative Fellowship; Adriana Wilson, DDS, MSD, clinical assistant professor of prosthodontics, received the ADEA/AAL Faculty of Color Tuition Scholarship for Professional Development: ADEA/AAL Compass Program for Academic Advancement; and Bailey Wilson, a student in the Dental Hygiene Program, was awarded the ADEA/Sigma Phi Alpha Linda DeVore Scholarship.
Also notable is the recent election of Dean Henry A. Gremillion, DDS, MAGD, to the position of Chair-Elect of the ADEA Board of Directors for 2018-2019. The previous title of ADEA President was changed in 2013 to Chair of the Board of Directors.
New Building Opened
On May 24, the Advanced Clinical Care and Research Building was officially opened. The event was marked by two receptions, speeches, and tours of the facility.

The $31 million, 65,000-square-foot building houses the 22-chair LSUSD Faculty Dental Practice for care in general dentistry and specialties, an oral and maxillofacial surgery clinic, an outpatient surgical center, and a clinical research facility. The new building offers the latest equipment for basic science research as well as clinical research and clinical trials.
Funded by FEMA to replace areas damaged during Hurricane Katrina, the new building elevates above the 100-year flood plain the critical infrastructure supporting functions of all buildings on the campus.

Dr. Larry Hollier, chancellor of LSU Health New Orleans, said, "the new facility increases our capacity to provide excellent dental care to patients and expands our clinical research and trials that offer patients the very latest treatment advances. Patients will also benefit from closer collaboration and easier consultation among multiple dental specialists working side by side."
Drs. Gremillion and Klasser Publish New TMD Book
A new book by Dean Henry Gremillion and Dr. Gary Klasser, associate professor of diagnostic sciences, provides a unique approach to the management of temporomandibular disorders (TMD). Temporomandibular Disorders; A Translational Approach from Basic Science to Clinical Applicability, published by Springer, acquaints the reader with the basic science principles needed to understand and manage TMD in accordance with th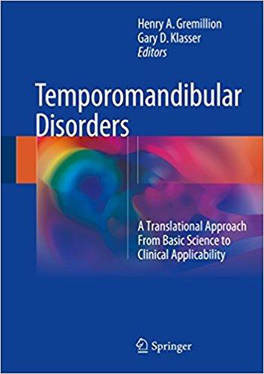 e tenets of evidence-based dental medicine.

Contributions from experts in the field cover fundamental principles, normal function of the masticatory system, dysfunction of the system, and management principles. The final chapter discusses psychosocial considerations in TMD. By following a translational approach to evidence-based practice measures as outlined in this book, the clinician will be excellently positioned to choose appropriate interventions on a case-specific basis.