Remembering Tracy Helm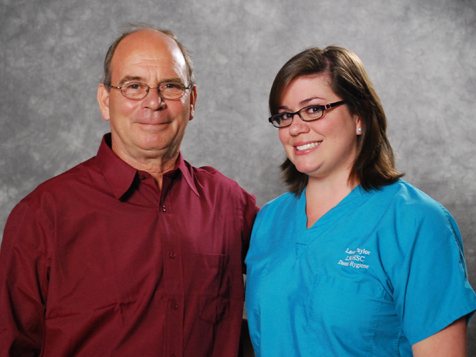 Bill Helm and Laura Taylor
In her short life of only 24 years, Tracy Helm left a lasting impact on those who knew her. She's remembered as outgoing, personable, kind and considerate. During her two years as a student in the LSUSD Dental Hygiene program, she was passionate about life, dentistry, and dental hygiene. She cared deeply about her patients and her fellow students.
The day Tracy died, as a result of a tragic automobile accident, was the saddest day in the life of her father, Bill Helm. The time he spent grieving his beloved daughter was emotionally exhausting. That difficult period gave him the resolve to find a life-giving way to remember his daughter.
He found that way three years later, with help from his family and friends. The result is the Tracy Helm, RDH, Memorial Endowed Scholarship in Dental Hygiene, which was started with contributions from the Helm Family. The award is given on the basis of grade point average, financial need, interpersonal relationship skills, and communication and patient management skills. The recipient is selected by the faculty of the Dental Hygiene program.
Laura Taylor of New Orleans is the winner of the $1,000 scholarship this year. Laura's mother, Maureen Rooney Taylor, also a hygienist, graduated in 1974 in the first LSUSD dental hygiene class.