Pride and Joy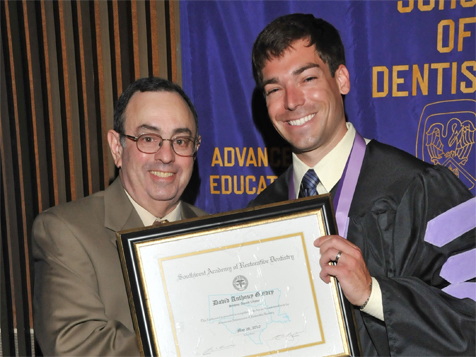 Dr. Alan Ripps presents Dr. David Guidry one of the six awards he received.
Laughter, hugs and applause from a packed audience of family and friends kept the energy level high during the May 12th Recognition Day for the Class of 2010. Altogether, 67 awards for outstanding achievement were given out. Winners of the Chancellor's Awards were Benjamin Bumgardner, DDS; Heather Hebert, DH and Thuy Thu Le, DLT.

Excellence in teaching was also honored through the presentation of Golden Apple Awards to recipients chosen annually by students. This year, Dean Henry Gremillion presented the Golden Apples to Heather Haro, clinical instructor in Dental Hygiene; David Vela, associate professor in Dental Laboratory Technology; Dr. Thomas Lallier, associate professor in the Department of Oral & Craniofacial Biology; Dr. Jim Weir (retired), professor in the Department of Oral & Maxillofacial Pathology; Dr. Janice Townsend, assistant professor in the Department of Pediatric Dentistry; and Dr. Toby Cheramie, associate professor in the Department of Comprehensive Dentistry.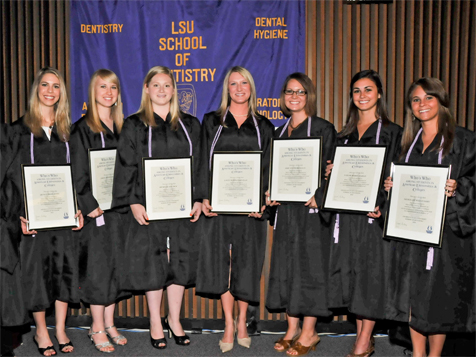 Dental hygiene graduates named to "Who's Who in American Colleges & Universities," from left, Quincy Adams, Emilye Amedee, Michelle Rick, Lacey Haas, Amie Thibodeaux, Taylor Trahan and Nicole Willoughby.
The traditional "Recollection" speech was given by graduating senior Christopher Feldman who worked tirelessly as the president of the Student Government Association for two years. He told his fellow graduates that "we are all going our separate ways but we will hold the friendships and connections we have made close to our hearts. We will always appreciate the fact that here, both within our class and among faculty and staff, we have met some of the smartest, most talented, hardest working, funniest, most generous, and most amazing people we will ever meet."