Ready for their Residencies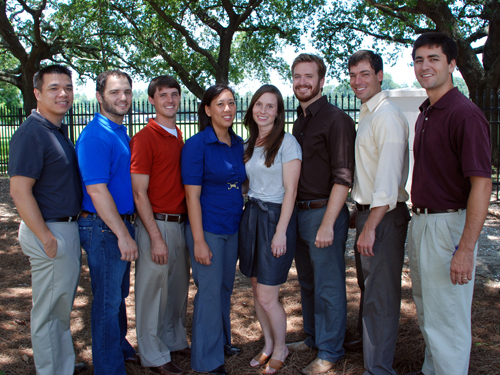 First-day smiles are easy for new residents, from left, Son Nguyen, Casey Bargas, Ben Foster, Julie Cheuk, Chelsea Accardo, Paul Beyt, David Guidry and Michael Von Gruben.
Eight graduates of the LSUSD Class of 2010 are among the 42 residents who have begun their specialty training in the disciplines that comprise the Advanced Education Program: endodontics, orthodontics, pediatric dentistry, periodontics, general practice residency and oral and maxillofacial surgery.
The clinic for the General Practice Residency Program based in Baton Rouge has moved to the LSU Hospital Systems Surgical Facility located at 9032 Perkins Road, site of the old Vista Hospital. Dr. Ben Record is director of the program.
The complete listing of residents by department is as follows:
Endodontics:
Chelsea Agar, Rodney Isolani, Sara Macway, Alan Simmon, Steven Black and Jeffrey Burroughs.
Orthodontics:
John Andrews, Benjamin Foster, David Guidry and Son Nguyen.
Pediatric Dentistry:
Christopher Jones, Christen Massey, Michael Von Gruben and Jordan Prieto.
Periodontics:
Curtis Caskey, Jessica Owens and Mahrufa Islam.
Prosthodontics:
Oscar Pappa, Jonathan Esquivel, Ellis Burke Jardine and Alejandro Llovera.
General Practice Residency:
Paul M. Beyt, Vera D. Dooley, Mariam Hanna, Ashula Martin, Brennan O'Brien, Marquita Wallace, Lauren Santarufo, Julia Cheuk, Casey Bargas, Shahin Sultana-Chowdhury and Osynia Webster.
Oral and Maxillofacial Surgery/Residency:
Daniel Choi, Arshad Kaleem, Tim Lee and Daniel Cummins.
Oral and Maxillofacial Surgery/Interns:
Sami Nizam, Aaron Brinster, Hisham Hartoum, John Nesiba, Krista Roquette and Shahrouz Zarrabi.