Meet the New Dentists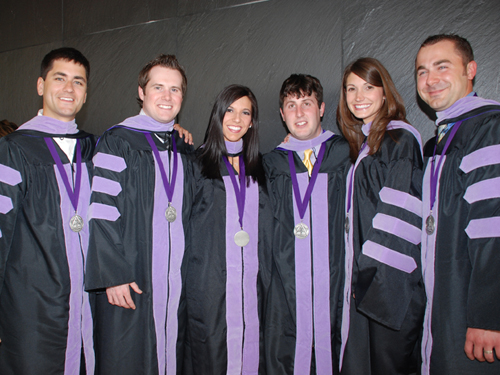 From left, Michael Von Gruben, Thomas Dobie, Jenna Warlick, Chris Feldman, Rachel Anders and Jeffrey Gregson are all smiles at their graduation.
At the 39th commencement ceremony of the LSUHSC School of Dentistry on May 13th, 2010, 113 degrees were conferred on 60 dental students, 43 dental hygienists and 10 dental laboratory technicians. Twelve of the graduates, Paul Beyt, Ben Bumgardner, Julia Cheuk, Taylor Denicola, Ben Foster, David Guidry, David Hastings, Rachael Marchand, Laura Tomaszewski, Taylor Trahan, Katheryne Smith and Charles Wilson, are children of dentists or dental hygienists.

Edward J. Ireland, Jr., DDS, M.Ed., professor in the Department of Comprehensive Dentistry and Biomaterials, was presented the coveted Allen A. Copping Excellence in Teaching Award, the highest honor in teaching given by the LSU Health Sciences Center. It is named after Dr. Copping, a former dean of LSUSD who went on to become chancellor of the LSU Medical Center and then president of the LSU System. Dr. Ireland has been a member of the dental school faculty since 1973.