The Gift of Champions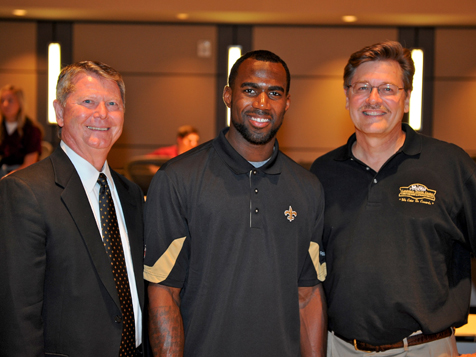 Dean Henry Gremillion, Malcolm Jenkins and Dr. Joey Lacoste.
When the New Orleans Saints won the Super Bowl, they captured the hearts of people around the globe with their compelling story of championship football and genuine caring for the community. Coach Sean Peyton calls this the ethic of "do good." In his bestselling book, Home Team, he points out that most of the players are like Malcolm Jenkins, who is always there to help the community. Jenkins is a 22-year-old defensive standout from Ohio State University. In 2009, he was the team's first-round draft pick.
Recently, Jenkins came to LSUSD to visit with students and to present a $5,000 donation made by the dentists who are part of the Louisiana Dental Center. Most of the dentists are graduates of LSUSD, including their CEO, Dr. Joey Lacoste, who made the presentation to Dean Henry Gremillion.
"We nearly lost the Saints after Katrina and we nearly lost the dental school," Dr. Lacoste said. "Sometimes, we don't appreciate the things that really matter in life until we almost lose them."
After the Saints and LSUSD did come home, Dr. Lacoste searched for an exciting way to raise money for the dental school by connecting to the Saints. The upshot is a dynamic fundraising idea he calls "The Big Turnover." When there is a fumble or interception by the opposing team, Louisiana Dental Center donates $250 to LSUSD. "It sure has made watching the game more interesting and I didn't think that was possible."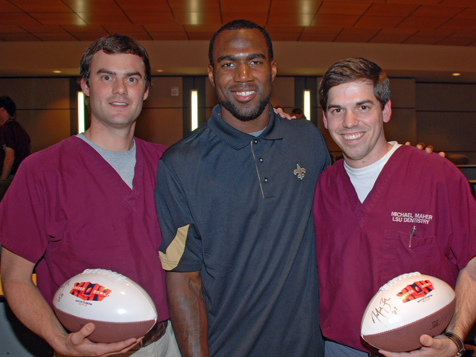 Dental students, Sean Owens and Michael Maher flank Saints safety Malcolm Jenkins.
Jenkins was gracious in meeting with the dental students, signing autographs and posing for photographs. Dean Henry Gremillion accepted the $5,000 donation, which will go into a fund dedicated to student community service projects. "The service-mindedness of individuals like Malcolm Jenkins demonstrates how vital the community is in all professions. Being the best and performing at the highest levels unifies everyone. The mark of a true professional, whether it's football or dentistry, is to give back."
Photos of the event can be found at http://gallery.me.com/cdbenn#100008
User ID: lsudental and password: jenkins