Top Student Researchers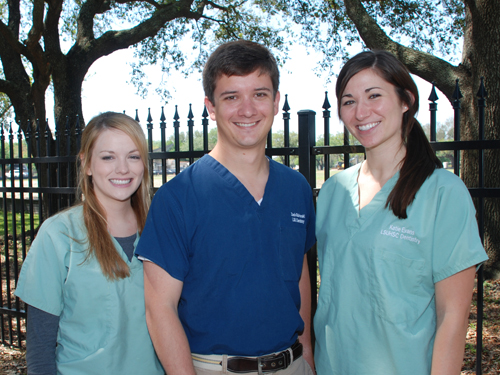 Christy Lottinger, Zachary Bulmanski, and Katie Evans.
The top three winners of the pre-doctoral poster competition were Christy Lottinger (D2), Zachary Bulmanski (D3), and Katie Evans (D2). The event is sponsored each year by the LSUSD Center for Excellence in Oral and Craniofacial Biology and the American Association for Dental Research. The winners were chosen from eight submissions of posters that were presented at the 40th Annual Meeting of the American Association for Dental Research (AADR) held in March in San Diego.

The other five students received honorable mention for their submissions. They were Erin Maturin, Ruby Nhan, Mary McClendon, Keleigh Quimby, and Jim Nelson.  Marc Corkern was chosen to give an oral presentation at the AADR meeting.

As first-place winner, Lottinger will attend the Hinman Student Research Symposium in Memphis, Tennessee, in October. Second-place winner Bulmanski will present his research at the American Dental Association (ADA)/Dentsply Student Clinician Research Program to be held in Las Vegas in October. Third-place winner Evans will attend the ADA 47th Annual Dental Students' Conference on Research in Gaithersburg, Maryland in May.