Making a Difference
LSUSD Steps in for Puerto Rico
Originally planned for last fall in San Juan, Puerto Rico, the American Student Dental Association (ASDA) District 5 annual meeting had to be cancelled when two category-four hurricanes devastated the island. However, Jeffrey Kerst, ASDA District 5 Trustee, who was responsible for planning the annual district-wide meeting for dental students in Louisiana, Alabama, Mississippi, Florida, and Puerto Rico, volunteered to host the group at LSUSD in January.
Participants at the winter meeting included 130 students from the other schools, including 12 from Puerto Rico. As a tribute to Puerto Rico, the group held a fundraiser to offset registration costs for the Puerto Rican students.
The two-day meeting consisted of welcome speeches from Dean Henry Gremillion and LSU Health Chancellor Larry Hollier, presentations from practitioners and industry leaders, interactive workshop sessions, social events, and a taste of New Orleans with poboys for lunch and "beignet breaks" throughout the day. Dr. Jeffrey Cole, American Dental Association president-elect, spoke about "Leadership Through Ability".
Generous sponsors were Heartland Dental, MedPro Group, Aspen Dental, Pacific Dental Services, and Dentsply Sirona. The LSU departments of oral surgery and prosthodontics helped with the afternoon interactive workshop sessions.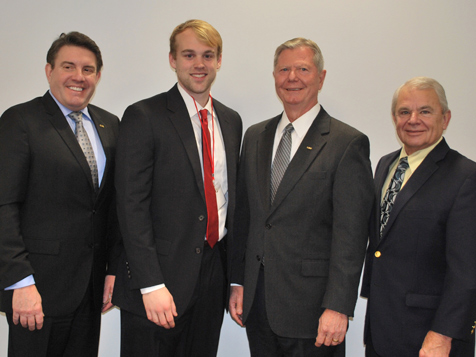 At ASDA District 5 Annual Meeting, l-r, Dr. Jeffrey Cole, Jeffrey Kerst,
Dean Henry Gremillion, Chancellor Larry Hollier
Library & Pediatric Dentistry Collaborate
Dental librarians Julie Schiavo, MLIS, and Wesley Lucas, MLIS, and Dr. Priya Ritwik, associate professor of pediatric dentistry, have obtained a grant from the National Network of Libraries of Medicine/South Central Region in the amount of $10,000 to promote oral health for medically compromised children. The purpose of the project, entitled "Connecting Systemic Diseases and Oral Health for Children: Accessible Information to Help Families Understand the Relationship", is to provide online information on the oral aspects of systemic diseases for health professionals and consumers.
The website will initially focus on ten health topics selected from the needs of patients at Children's Hospital of New Orleans. The contents, with links to pages with additional information, will be in an easy-to-read format. This well-researched, comprehensive resource will enable parents of children with systemic diseases to access trusted information on oral health care. The website will go live in March 2019.
Summer Enrichment for Future Students
First begun in 2007, the LSUSD Summer Enrichment Program for underrepresented minority and disadvantaged students just completed its 12th year. The program has three goals: to identify students from underrepresented minority and disadvantaged backgrounds who have demonstrated the potential to handle the rigors of the dental curriculum; to prepare participants to be competitive for application to dental school; and to develop relationships with these highly sought-after students so they will choose to attend LSUSD over other dental schools in the United States. The one-week program introduces students to the dental profession, the dental school application process, and the demands of dental school.
Six students participated in the 2018 program, organized by Drs. Stephanie Noe and Stephen Brisco. Louisiana Dental Center and Campus Federal Credit Union continue to be major sponsors of the program.
Since the inception of the Summer Enrichment Program, 112 students have participated. Sixty-one are either enrolled in or have been accepted into dental school; 37 of these students either enrolled in or have been accepted by LSUSD.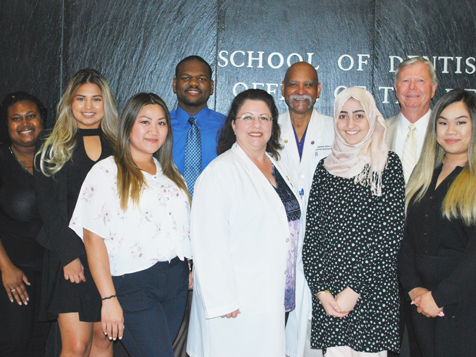 Summer Enrichment program participants, l-r: Dawn Alexander, Kimberly Nunez, Tina Tran, JaKerick Johnson, Dr. Stephanie Noe, Dr. Stephen Brisco, Hana Alkhafaf, Dean Gremillion, Nina Nguyen