Farewell to Katie Kelley
We regretfully announce that Katie Kelley, MBA, coordinator of information and publications in the Office of Alumni Relations, Advancement, and Publications, has accepted a new position in Alumni Relations at the College of Pharmacy at the University of Louisiana at Monroe. In the five years that Katie has worked with Joanne Courville, MPA, director of alumni relations, she has become a familiar, friendly, and helpful presence to numerous alumni, students, staff, and faculty members.

A native of Winnfield in north Louisiana, Katie will be moving back home to be closer to her mother, younger sister, and other family members. Her ties to Winnfield are still strong. As the birthplace of three Louisiana governors, Huey P. Long, Earl K. Long, and O.K. Allen, Winnfield is considered the birthplace of Louisiana politics. Her father, the late Max Kelley, was elected mayor of Winnfield in 1982.

Katie graduated from LSU-Baton Rouge in 2007 with a degree in mass communications, concentrating in public relations. She then received an MBA from LSU-Shreveport in 2009. Before coming to work at LSUSD in late 2013, she served for three years as residency coordinator for the LSU-Shreveport Department of Neurosurgery.

Katie loves to travel and this past summer she spent several weeks visiting Australia, New Zealand, and Fiji. An avid LSU Tiger fan, she has attended LSU football games with her family since she was a young girl. After 13 years of piano lessons and singing in her church choir growing up, she still loves music and even made a special trip home to sing with the choir in the Christmas program this year.

Coordinating many of the events and activities celebrating the 50th anniversary of LSUSD kept Katie extra busy in 2018. She said, "I have loved every minute of my time in New Orleans and all the wonderful people at the dental school I've had the opportunity to get to know."

Katie Kelley will be missed by many in the Louisiana dental community as much as those of us at the school will miss her. She begins her new job at ULM on January 7.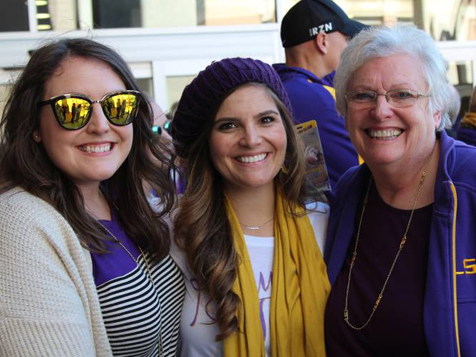 The Kelley family enjoy an LSU football game:
(l-r) sister Caroline, Katie, and mom Becky
Friday, March 8
LSUSD Alumni Reception
Arkansas State Dental Association Annual Session
5:00-7:00 pm
Little Rock Marriott Hotel
3 Statehouse Plaza, Little Rock, AR
Friday, March 22
LSUSD Alumni Reception
5:00-7:00 pm
Hinman Dental Meeting
Hudson Grille
120 Marietta Street, Atlanta, GA

Thursday, May 9
NODA/LDA Welcome Reception & President's Party
7:00-10:00 pm
LSUSD Alumni Reception
Celestin Ballroom A
Hyatt Regency Hotel
601 Loyola Avenue, New Orleans, LA

Friday, July 31
Nomination Deadline for Alumnus of the Year and Distinguished Alumnus Awards
More information to follow

Friday, September 20
Alumni Day
8:00 am-5:00 pm
LSU School of Dentistry
1100 Florida Avenue, New Orleans, LA