ID Dental Clinic Update
We welcome Dr. Damien Cuffie, the newest staff member of the Infectious Disease (ID) Dental Clinic, who joined the LSUSD faculty in fall 2018. A component of the Infectious Disease Center of University Medical Center New Orleans, the ID Dental Clinic treats patients living with HIV and AIDS. One of three dentists in the clinic, Dr. Cuffie joins Dr. Dwight Brown, clinic director, and Dr. Alana Goldstein Schier. Dr. Goldstein Schier, who has worked in the clinic for the past four years, will be leaving in June.

The HIV Outpatient (HOP) Clinic, a component of the Infectious Disease Center, provides early intervention and comprehensive health care to people living with HIV and AIDS. Because these patients are more susceptible to aggressive dental diseases, severe oral lesions, and decay, dental care is an integral part of overall care. All services are free of charge to patients.

The HOP Clinic was founded by Dr. Ted Wisniewski in 1987 as an outgrowth of the Medical Center of Louisiana. The clinic mission is to support and promote the health and well-being of people living with HIV by providing high-quality health care services. ID Center-HOP believes that all people living with HIV deserve compassionate care from skilled, dedicated professionals, regardless of socioeconomic status. The HOP Clinic has been recognized nationally for its multidisciplinary approach and serves as a medical home for people living with HIV. The ID Dental clinic offers easy access to a variety of services available to people living with HIV. In addition to dental professionals, health care providers at the clinic include infectious disease physicians, nurses and nurse practitioners, social workers, nutritionists, phlebotomists, researchers, health educators, and patient access staff.

Dental care at the HOP Clinic is provided by the three hospital-trained dentists, a dental hygienist, four dental assistants, and a medical assistant. Fourth-year dental students rotate through the clinic to gain experience in treating people living with HIV in both hospital and clinic settings. During the rotation, students learn infection control measures, medical assessment of patients, management of patients who may have little knowledge of dental hygiene, and clinical complications related to the disease.

At the end of 2017, it was estimated that 21,803 people in Louisiana were living with HIV, with Louisiana ranked 10th for the number of cases. The recently announced government plan to eliminate the spread of new HIV cases in the U.S. by 2030 may bring new funding to local care for HIV/AIDS as Baton Rouge and New Orleans are recognized as being among the 48 areas with the majority of new HIV diagnoses.

Patients can call the clinic directly to make appointments or may be referred by a health care professional. Spanish- speaking providers and phone-based translation services are available. For further information about the HIV Outpatient Program, including patient referral, go to umcno.org/infectiousdisease.
Infectious Disease Dental Clinic
HIV Outpatient Program (HOP)
University Medical Center New Orleans
Ambulatory Care Building, 3rd Fl., 3B clinic
2000 Canal St. (near S. Galvez St.)
New Orleans, LA 70112

Phone: 504-702-5081 Fax: 504-702-5597
Hours: Monday-Friday 8:00 am - 4:30 pm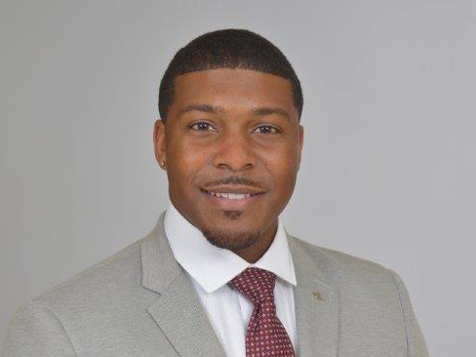 Damien Cuffie, DDS, MPH, who joined the LSUSD Diagnostic Sciences faculty in August 2018, practices dentistry at the Infectious Disease Dental Clinic. A recent graduate of the LSUHSC General Practice Residency (GPR), he served as chief resident during his second year in the program. He entered dentistry after a career in public health, graduating with a masters of public health from LSUHSC in 2010 and a DDS from Meharry Medical College School of Dentistry in 2016. He also received a certificate in health science from Meharry Medical College School of Graduate Studies and served as a Robert Wood Johnson Health Policy Scholar.

Dr. Cuffie currently serves in the U.S. Army National Guard at the rank of captain. After completion of the GPR program in 2018, he practiced in the Southeast Louisiana Veterans Health Care System. Before beginning his career in dentistry, Dr. Cuffie served as an analyst in Disease Management with the LSU Health Care Services Division, and worked for Ochsner Health System on its medical information system. With his public health background, Dr. Cuffie is a valued addition to the Infectious Disease Dental Clinic.