Congratulations to Our Graduates
Graduation for the six health professions schools in LSUHSC-New Orleans took place on May 16 at the UNO Lakeside Arena. During LSUSD Recognition Day on the previous day, Dr. L. King Scott, president of the LSUSD Alumni Association delivered the keynote speech. Reflecting on his 40+ years as a dentist, he told the graduates, "You have gotten a fabulous education here at LSU," he said. "Don't forget a great part of your success is because of the time you have spent here."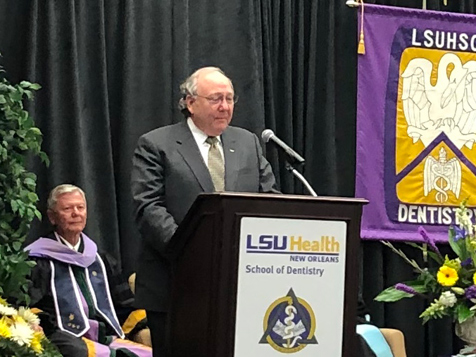 Dr. L. King Scott delivers keynote address at 2019 Recognition Day.
Recipients of the Chancellor's Awards were Daniel Gonzales, dentistry; Kailey Unger, dental hygiene; and Lillian Lestelle, dental laboratory technology. Recipients of the Dean's Awards were Camille Green, dentistry; Meghan Galofaro, dental hygiene; and Betzayda Mojica, DLT.

This year 98 students graduated from the three degree programs—59 from dentistry, 37 from dental hygiene, and two from DLT. Of those graduating with a DDS, one is entering the military, 43 are entering private practice (13 outside Louisiana) and 15 are pursuing advanced education.
Every year at graduation, a deserving faculty member from each of the six schools of the health sciences center receives the Allen A. Copping Excellence in Teaching Award. The 2019 dental school recipient is Sherrod "Shade" Quin, DDS, assistant professor of comprehensive dentistry-- clinical comprehensive and operative dentistry. A 1979 LSUSD graduate, Dr. Quin worked in private practice in McComb, Mississippi, for 30 years before joining the school as a full-time faculty member in 2009. He is a member of the C. Edmund Kells Honor Society and a previous recipient of the Golden Apple Teaching Award. Along with Dr. Suezan McCormick, Dr. Quin supervises students at the Ozanam Inn Interprofessional Education Saturday outreach clinic. He has been dedicated to the project since its inception in 2013.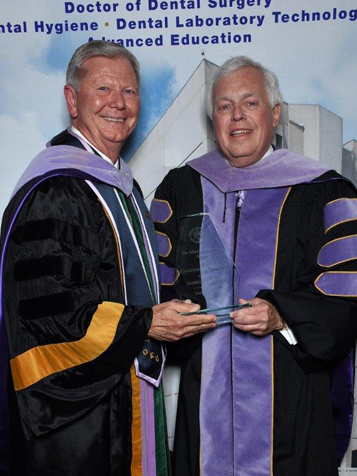 Sherrod "Shade" Quin, DDS, 2019 Copping Award winner
Golden Apple Awards
Each class honors faculty members for excellence in teaching with Golden Apple Awards. During the Recognition Ceremony, graduating classes presented awards to
F. Thomas Giacona, DDS, associate professor of comprehensive dentistry and biomaterials; Heather Allen, RDH, MSHCM, assistant professor of dental hygiene; and Gail Vanderwall, CDT, instructor of laboratory technology.
The 2019 Advanced Education graduation ceremony was held on June 19. Thirty-three residents, three fellows, and six interns received certificates from the seven specialty programs of endodontics, general practice residency, oral and maxillofacial surgery, orthodontics, pediatric dentistry, periodontics, and prosthodontics. Fourteen residents also received a master's of dental sciences.

Robert Delarosa, DDS, a pediatric dentist and LSUSD graduate, presented the keynote address. Among his numerous accolades is the 2016 Distinguished Alumnus Award.
During the ceremony, Dr. Tom Wen announced recipients of awards for oral presentations at Research Day, held on May 18. Dr. Timothy A. Carlson, endodontics, won the Dr. Robert B. Brannon Research Award for first place. Dr. Phillip P. Crum, periodontics, won second place; and Dr. Jenny L. Herman, periodontics, placed third.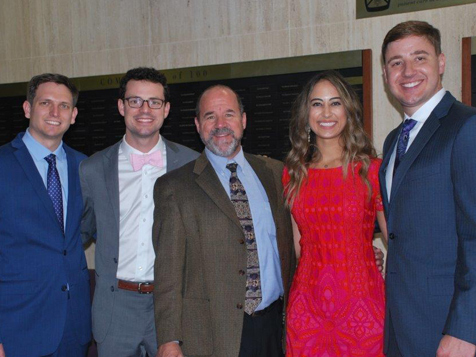 (l-r) Orthodontics graduates Drs. Kyle Maldonado, Marc Fruithandler, Elizabeth Melvin, Cody Oldham, with Dr. Paul
Armbruster, department head & program director, center