Faculty and Student Achievers
The LSUSD Academy of General Dentistry Student Chapter is the recipient of the 2019 AGD Student Chapter of the Year Award. This award honors the AGD student chapter that provides its membership with the best overall set of programs and activities. Kay Jordan, DDS, MAGD, clinical assistant professor of operative dentistry, founded the chapter in 2013 and has been its faculty sponsor since then. In 2014 the LSUSD organization became the first student chapter recognized by the AGD.

The award was accepted by Joe Lee, 2018-2019 president, and Adrienne Ware, 2018 graduate and past president. The chapter has been awarded $1,000 toward membership programming and recognition on the AGD website. The two lead chapter officers also received funding to attend the 2019 AGD Scientific Session in July in Uncasville, Connecticut.

In addition to networking, leadership, and educational opportunities, the AGD Student Chapter program provides students with a way to earn credentials toward AGD Fellowship while they are still in dental school.

Officers for the current academic year are Chandler DeJean, president; Rachel Robinson, vice-president; and Kayla Dymen, secretary. In October the chapter will fill the position of D1 representative and create new committees to address social media and assembly.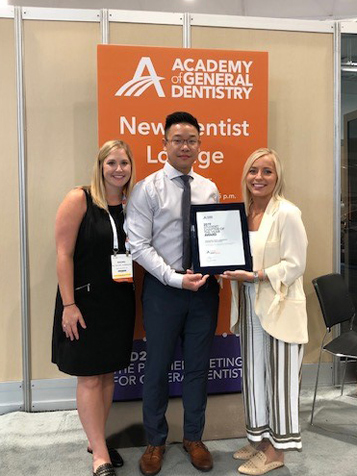 (l-r) Rachel Robinson, Joe Lee, and Chandler DeJean display the AGD Student Chapter Award
Gerard Scannell III, third-year dental student, has been elected to the position of District 5 Trustee of the American Student Dental Association (ASDA) for 2019-2020. In this national leadership position, Gerard will serve on the ASDA Board of Trustees.
A practitioner of mindfulness, Gerard has written on the topic for publications by ASDA, the American Dental Education Association, and the Academy of General Dentistry.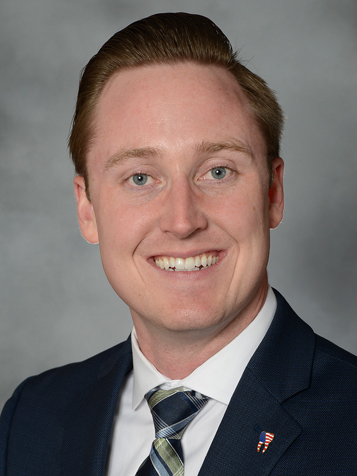 Gerard Scannell II, ASDA District 5 Trustee
Gary D. Klasser, DMD, professor of diagnostic sciences, has recently completed work as a consultant/advisor on two grant applications for the National Institutes of Health/National Dental and Craniofacial Research Institute. A practitioner in orofacial pain and sleep disordered breathing, Dr. Klasser is associate editor of Quintesssence International and an active reviewer for a long list of journals including Oral Diseases, European Journal of Oral Diseases, Journal of Prosthetic Dentistry, and Pain Management. An author or co-author of over 70 articles in peer-reviewed journals, he has edited five books and served as an expert witness for numerous legal cases.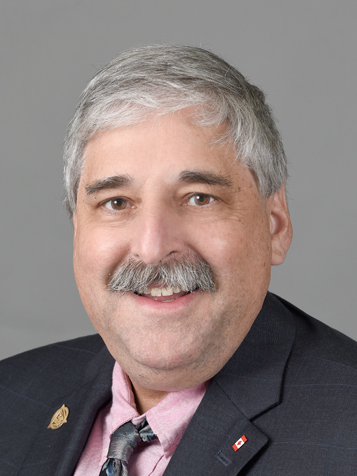 This past fiscal year, from July 1, 2018, through June 30, 2019, a total of 58 articles by LSUSD faculty members appeared in the professional literature. A selection of articles appears here:

—Barker TS, Smith CA, Waguespack GM, Mercante DE, Gunaldo TP. Collaborative skill building in dentistry and dental hygiene through intraprofessional education: Application of a quality improvement model. J Dent Hyg. 2018 Oct;92(5):14-21.
—Rosebush MS, Briody AN, Cordell KG. Black and brown: Non-neoplastic pigmentation of the oral mucosa. Head Neck Pathol. 2019 Sep;13(3):492-499. doi: 10.1007/s12105-018-0923-5.
—Dragonas P, Katsaros T, Avila-Ortiz G, Chambrone L, Schiavo JH, Palaiologou A. Effects of leukocyte–platelet-rich fibrin (L-PRF) in different intraoral bone grafting procedures: A systematic review. Int J Oral Maxillofac Surg. 2018
—King BJ, Park EP, Christensen BJ, Danrad R. On-site 3-dimensional printing and preoperative adaptation decrease operative time for mandibular fracture repair. J Oral Maxillofac Surg. 2018 May 15
—Mascarenhas F, Fidel PL,Jr, Caballero P, Yu Q, Townsend J. Student and faculty perspectives of a faculty-student mentoring program in a dental school. Eur J Dent Educ. 2019 Jan 10
To view the complete list, go to:
lsusd.lsuhsc.edu/Documents/FacultyPublications2018-19.pdf