LSU Health School of Dentistry Offers Valuable Resource
in Diagnostic Services
April is Oral Cancer Awareness Month and LSU Health School of Dentistry (LSUSD) is doing its part to raise awareness through the vital services offered. Along with its primary mission of educating dental professionals, LSUSD offers unique resources to the dental community. Two valuable services through its Department of Diagnostic Sciences include oral and maxillofacial biopsy diagnostic services and maxillofacial radiology consultation services. These services assist dental practitioners in offering the best possible care for their patients.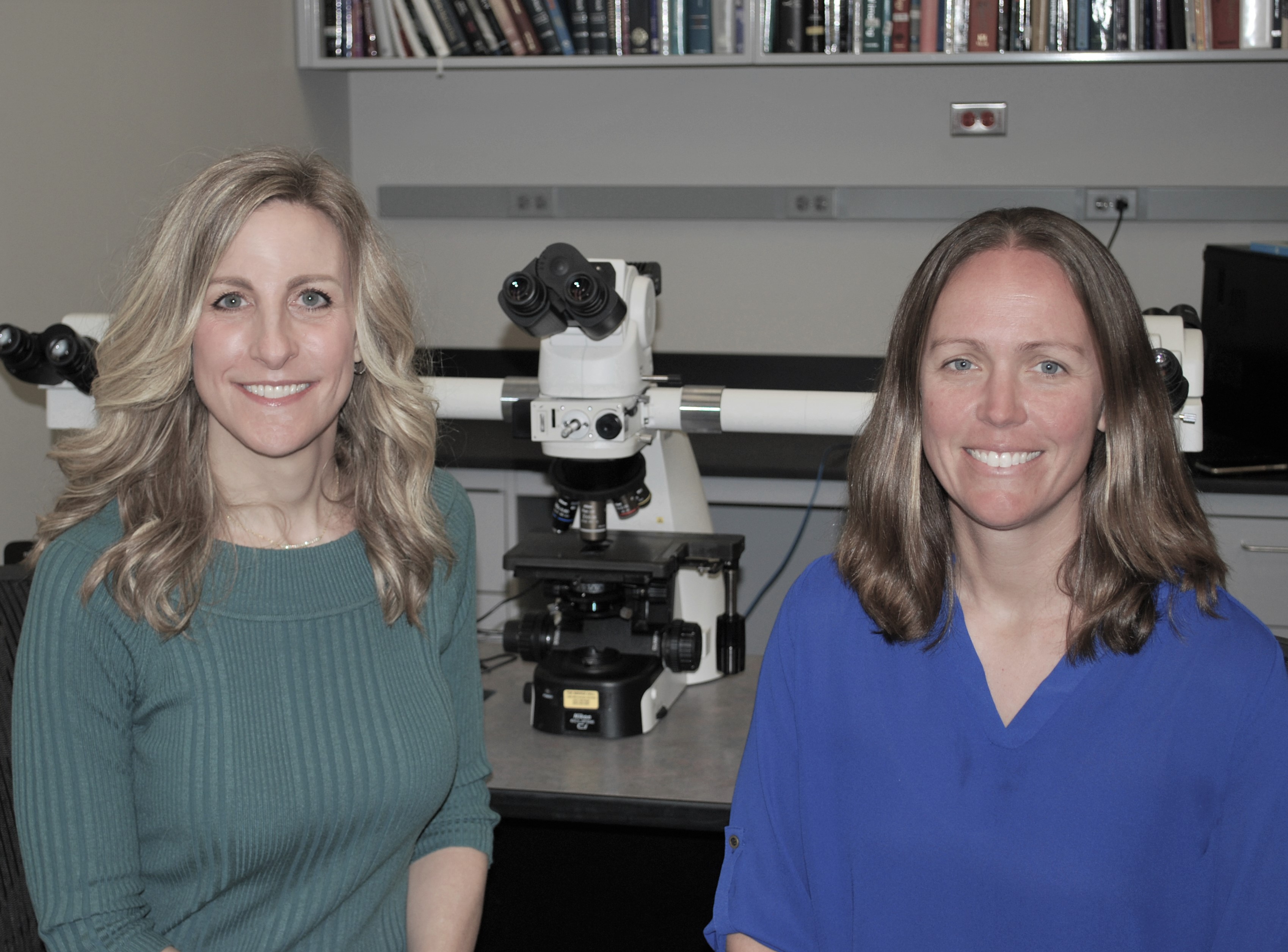 (Pictured l-r; Dr. Kitrina Cordell and Dr. Molly Rosebush)vvvv
Under the leadership of Dr. Kitrina Cordell, professor and chair of the Department of Diagnostic Sciences, the department boasts the only two oral and maxillofacial pathologists and the only two oral and maxillofacial radiologists in Louisiana. They provide patient consultations, teach in all levels of LSU's educational programs including offering continuing education courses, and deliver care to patients in the LSUSD Faculty Dental Practice.

Oral and maxillofacial pathology refers to the study of diseases of the mouth, jaws and related structures such as salivary glands, temporomandibular joints, facial muscles and perioral skin, all of which are prone to a variety of medical and dental disorders. The practice of oral and maxillofacial pathology includes diagnosis of diseases using clinical, radiographic, microscopic, biochemical or other examinations, management of patients and research. Oral pathologists have advanced education in the field that lasts on average 37 months.

Oral radiologists have advanced education and experience in radiation physics, biology, safety and hygiene, which enables them to take and interpret conventional and digital images, computed tomography (CT) and magnetic resonance imaging (MRI) scans, and similar techniques to help diagnose and treat oral-facial diseases and conditions. Training programs in this specialty last from 24 to 36 months, depending on the certificate or degree offered. Technology in the field of radiology is changing so quickly that practitioners like oral and maxillofacial radiologists are pioneers in a constantly evolving field of practice.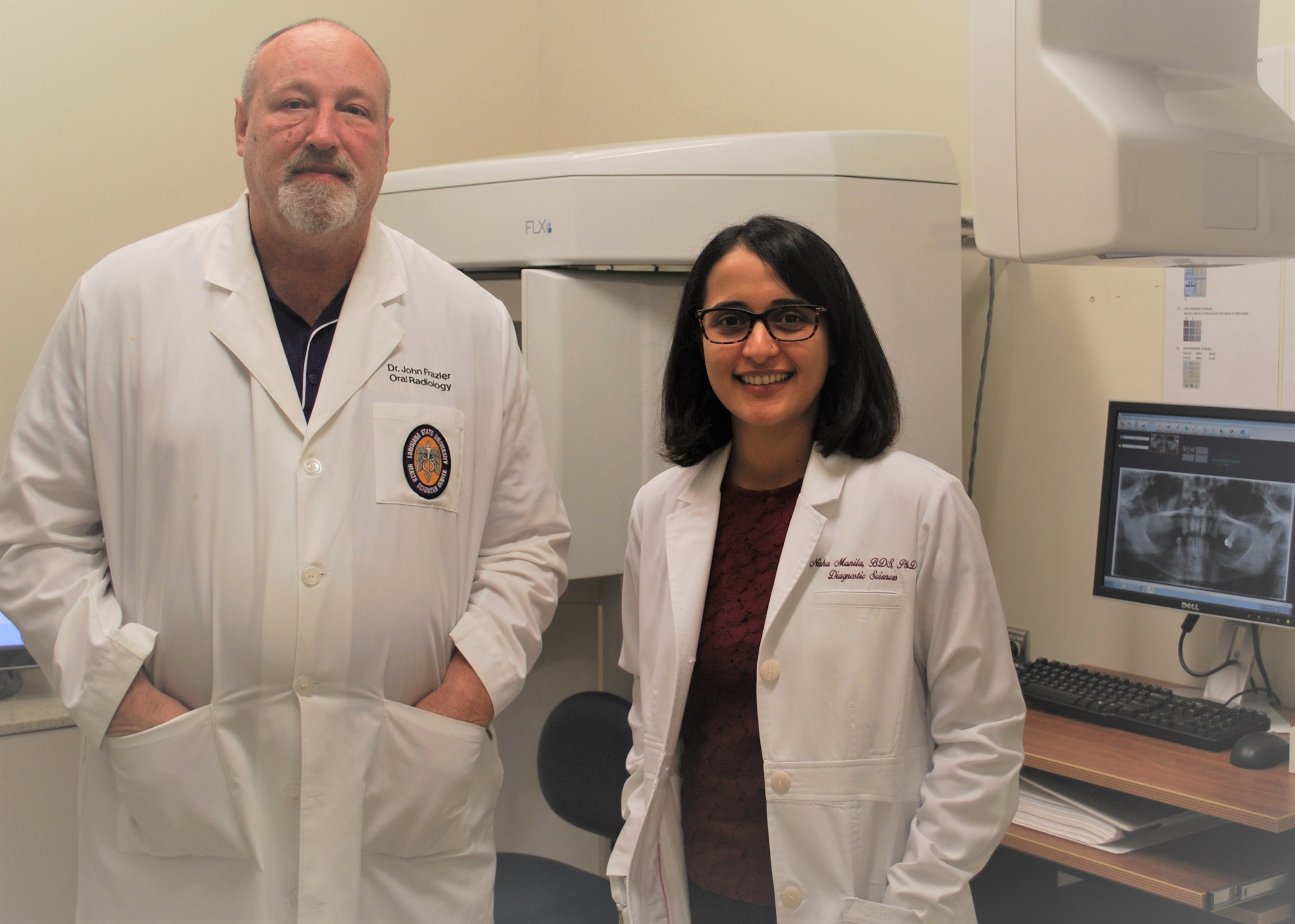 (Pictured l-r; Dr. John Frazier and Dr. Nisha Manila)

Oral & Maxillofacial Biopsy Service Specimens are submitted using prepaid FedEx two-day shipping and tracking from practitioners' offices to the dental school with 48-hour turnaround from receipt to generation of a report in most cases. Drs. Cordell and Rosebush review the large majority of specimens together at their multiheaded microscope prior to issuing a full diagnostic report. In 2021, the service processed just over 3600 cases, almost 10% of which were precancerous or malignant diagnoses. More Information: Contact (504) 941-8449 or oralpath@lsuhsc.edu
Safety Tips from the Experts for National Facial Protection Month
April is National Facial Protection Month and all of the nation's top dental associations are working to raise public awareness about the dangers of recreational and organized sports. According to the Academy of Sports Dentistry, an estimated 12 million people between the ages of 5 and 22 suffer a sports-related injury each year. This translates into 20 million lost days of school and about $33 billion in healthcare costs. Some of those injuries could have been prevented with the use of protective gear.

Here are the top safety tips when it comes to preventing injury to the face and mouth:
1. Mouthguards are necessary: A professional mouthguard will cost about $400, but the cost of an injury to the teeth could cost thousands of dollars and many lost days of school and/or work to repair.
2. Find a good fitting helmet: Helmets are designed to absorb the energy of an impact and help prevent damage to the head.
3. Protective eyewear: Eyes are extremely vulnerable to damage when playing sports. If a player has less than 20/20 vision, proper fitting sports glasses are important to prevent injury.

"Whether you are involved with an organized athletic team, a pick-up game of basketball at a local park, or skateboarding is your thing, you need to be wearing a mouthguard when participating," says Jeffrey Johnson, DMD, director of the Department of Pediatric Dentistry at LSUSD. "An ounce of prevention may be the difference between you and a significant oral injury.
If you cannot see a dentist for a professionally-made mouthguard, please get one over the counter. Anything is better than nothing."

In cases of dental emergencies, you're urged to call a dental office right away. Our number is 504-941-8201. We see emergency patients daily at our pediatric dental clinic located at 1100 Florida Avenue in New Orleans. Also, our residents are on call through Ochsner Hospital for Children for dental and oral trauma 24 hours a day, seven days a week.