The United Cerebral Palsy of Greater New Orleans Partners with LSUSD to Care for Children & Adults with Special Needs
The United Cerebral Palsy (UCP) of Greater New Orleans has donated $100,000 to support education, patient care and community outreach at LSU Health School of Dentistry (LSUSD), benefitting children and adults with special needs.

The donation will provide $60,000 to establish an endowment, "The United Cerebral Palsy of Greater New Orleans & Dr. Frank Martello Conference and Education in Dentistry Fund," which will support teaching best practices in delivering oral health care to patients with special needs.
The remaining $40,000 will provide direct dental patient care to UCP-referred uninsured or underinsured adult patients with special needs.

Dr. Martello, a clinical associate professor of comprehensive dentistry and biomaterials who teaches part-time at LSUSD, played an integral role in creating the partnership with The UCP of Greater New Orleans.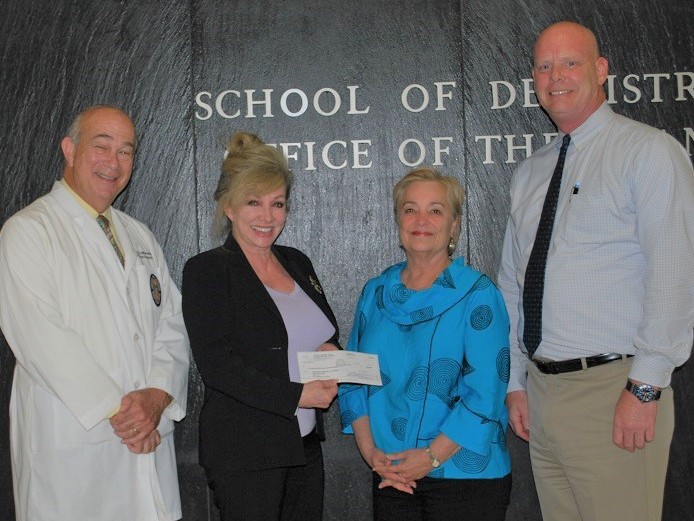 (pictured L-R: Dr. Frank Martello, Kendra Nelson, Dr. Joanne Rinardo, Dr. Robert Laughlin)

"This partnership will improve access to care for children and adults with special health care needs for years to come," notes Robert Laughlin, DMD, LSUSD Dean. "UCP's generosity will help us graduate more dental professionals prepared to manage the particular needs of these patients while expanding our ability to take care of them now and prevent future complications."

According to the American Academy of Pediatric Dentistry, health care for individuals with special health care needs requires specialized knowledge, as well as increased awareness and attention, adaptation and accommodative measures beyond what are considered routine. Individuals with special health care needs may have malocclusion, crossbite, decayed or missing teeth, mouth breathing, thin enamel, as well as periodontal disease and poor oral hygiene, among other conditions.

Dr. Martello says, "I have treated special-needs patients as a volunteer at UCP since 1984 and I've seen the urgent need for predoctoral training in this field. Dental care is an essential part of health care and this generous gift will help future LSU doctors provide treatment to a long-underserved population."

"People with behavioral, physical and cognitive differences need special care when visiting the dentist. The training provided with the help of this donation will better prepare dental professionals in Louisiana to meet the unique needs of people with disabilities," says Kendra Nelson, executive director of The United Cerebral Palsy of Greater New Orleans.

In addition to helping secure funding for LSUSD to care for those with special needs, Dr. Frank Martello also received the Louisiana Dental Association's (LDA) Humanitarian Award. It was presented in March at the 140th House of Delegates Annual Session of the LDA.The award recognizes dentists who have distinguished themselves through outstanding dental service in the United States and abroad.

New Law to Benefit Adults with Special Needs
The Louisiana Dental Task Force for Adults with Intellectual/ Developmental Disabilities, which recently championed Louisiana House Bill 172 and Health Care Reform 34, passed in the 2021 legislative session. Sponsored by Representative Rhonda Butler, the new law requires that the Louisiana Department of Health (LDH) ensures comprehensive Medicaid coverage for dental care for each person age 21 or older who is enrolled in any Medicaid waiver program for persons with developmental or intellectual disabilities. It requires LDH to take all the necessary actions to make the coverage required by the new law available to all persons eligible for such coverage on or before July 1, 2022.
Faculty Member Honored with Leadership Award
A 27-year faculty member of the LSU Health School of Dentistry who serviced on the Louisiana Dental Task Force, Jenni Hew, was honored with a special leadership award. The Golisano Health Leadership Award from The Golisano Foundation recognizes individuals and organizations that further the cause of the Special Olympics and improve access to health care and wellness programs for those with intellectual disabilities. Jenni Hew is an Associate Professor of Clinical Comprehensive Dentistry and serves as Program Coordinator for the GPR Residency Program. Among the many hats she wears, Ms. Hew also serves as the Clinical Director for Special Olympics Louisiana Special Smiles and the LSUHSC wellness committee.