Quad Schools Endodontic Conference
On February 26 and 27, residents and faculty members from endodontic residency programs in neighboring states came to LSUSD for the annual Quad School Endodontic Conference. Nearly 40 attendees from the University of Texas Houston, University of Texas San Antonio, Baylor College of Dentistry, Keesler and Lackland Air Force bases, and LSUSD participated in the two-day meeting. The event, held at LSUSD every four years, began in the early 1990's.
Organized by residents, the event was chaired by Dr. Callie Smithson with the assistance of Dr. Jonathan Schubert. In addition to four presentations on the current practice of endodontics, vendors displayed state-of-the-art equipment for the specialty. On the two evenings before the program, attendees enjoyed local culture and food.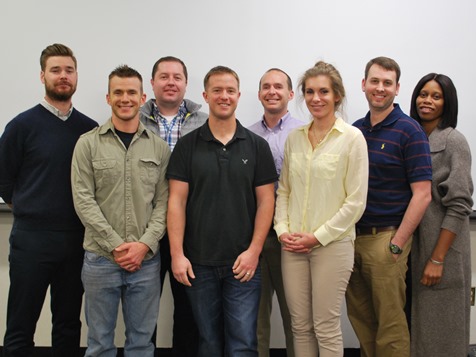 LSUSD endodontics residents: Back row: Drs. Scott, Beacham, Johnson; Front row: Drs. Mason, Schubert, Smithson, Reaves, McDaniels
Advanced Education Grand Rounds
At the spring 2016 LSUSD Advanced Education Grand Rounds on March 18, residents from the seven programs discussed complex cases in detail. The semiannual event offers residents the opportunity to learn about the work of clinicians in other specialties.
Guest speaker James R. Kennedy, MHA, MJ, ARM, risk management consultant for LAMMICO, presented "Disclosure of Medical Error".
After each case presentation, a panel of residents addressed questions to the speakers. Panel members were Drs. Joshua Reaves, Briggs McKey, Chris Savoy, Jose Porras, Liz Panichkul, Katie Schier, and Shahrouz Zarrabi.
Dr. Eric Hovland, director of advanced education, coordinated the program with Drs. Austin McMurphy and Arshad Kaleem, resident members of the Advanced Education Committee.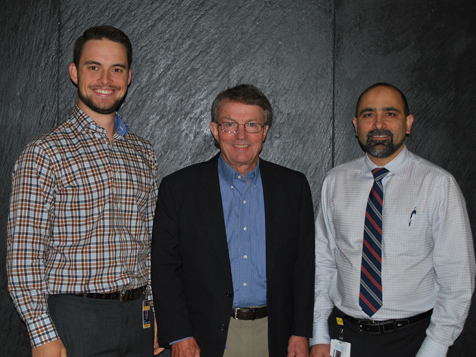 Drs. Austin McMurphy, Eric Hovland, Arshad Kaleem
Touro Infirmary Dental Seminar
At the 34th annual Touro Infirmary Dental Seminar, hosted by LSUSD on February 26, keynote speaker Pinhas Adar, MDT, CDT, spoke on the latest technology for restorative and implant esthetics. Two addition presenters, John C. Schwartz, DDS, and Cheryl Pearson, DMD, lectured on digital solutions for the modern dental office and applying past knowledge to new digital dentistry.
Over 140 dentists attended the continuing education event, which has been held at the dental school for the last four years. Dedicated to the pursuit of excellence in dental education and professional skills in dentistry, the lecture began in 1983 as the Charles W. Rossner Seminar. It continues to be a program of the Touro Infirmary Dental Department, supported by the Touro Infirmary Foundation.
Program organizers were Drs. Dov Glazer, Frank Martello, Hisham Nasr, and Henry Gremillion. A portion of the proceeds is contributed to LSUSD.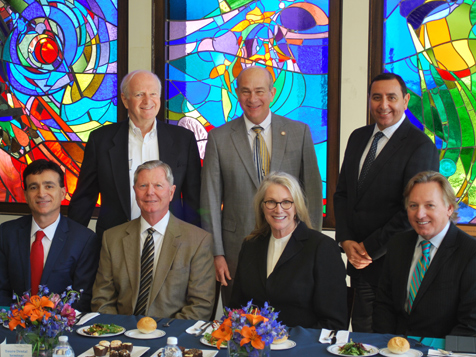 Back row: Drs. Dov Glazer, Frank Martello, Hisham Nasr
Front row: Pinhas Adar, Drs. Henry Gremillion, Cheryl Pearson, John Schwartz