Dean Leads Education Association
On March 19, at the close of the 2019 annual session of the American Dental Education Association, in Chicago, LSUSD Dean Henry Gremillion, DDS, MAGD, assumed the chairmanship of the ADEA Board of Directors for 2019-2020. He has served as chair-elect for the past year; his goal as chair is to further the vision and mission of ADEA.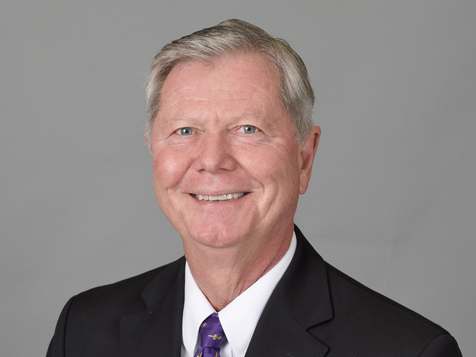 Dean Henry A. Gremillion, DDS, MAGD
ADEA Chair of the Board, 2019-2020
ADEA's mission is to lead institutions and individuals in the dental education community to address contemporary issues influencing education, research and the delivery of oral health care. Members include all 76 U.S. and Canadian dental schools, more than 1,000 allied and advanced dental education programs, 60 corporations and more than 22,000 individuals.

The Board, ADEA's administrative body, is responsible for running association affairs between annual sessions. As the liaison between ADEA and other professional organizations, Dr. Gremillion will represent ADEA at national and international meetings.

In his eloquent and inspirational speech delivered at the opening session of the meeting, Dr. Gremillion stated that his theme for the coming year,"Discover Your Pathway," will emphasize broadened career development tracks for educators. "....as we focus on preparing our graduates to be future-ready, it would be reasonable to ask ourselves if our own career is future-ready. Today's dental educator must acquire a nuanced understanding of rapidly changing organizational structures and principles of inclusion."

Dr. Gremillion grew up in Cottonport, Louisiana, and received his DDS from LSUSD in 1977. After practicing dentistry in Cottonport, he joined the University of Florida College of Dentistry, where he was the Parker E. Mahan Endowed Professor of Orofacial Pain in the Department of Orthodontics and a member of the dental staff of Shands Teaching Hospital. He also served for 17 years as director of the UFCD Parker Mahan Facial Pain Center. He joined LSUSD as dean in 2008.

Dr. Gremillion is the fourth LSUSD faculty member to lead ADEA, following Drs. James Harrison, Eric Hovland, and Sandra Andrieu. The recipient of numerous awards and tributes for his outstanding contributions to the dental profession, Dr. Gremillion recently added another honor to his credentials as a recipient of the 2019 Health Care Heroes award, sponsored by New Orleans CityBusiness. The award honors outstanding men and women in the health care industry.
Two residents in the Department of Prosthodontics received awards in the poster competition at the American Equilibration Society annual scientific meeting, held in February in Chicago.

Wael Zakkour, DDS, first-year resident, won first-place with his poster, "Smile Donation to Meet and Exceed Patients' Demands for a Highly Customized Prosthesis." Dr. Zakkour, a native of Tripoli, Lebanon, received his DDS from L'Université Saint Joseph de Beyrouth.

Amir Nejat, DDS, MS, second-year resident, placed second. His poster is entitled "Temporo-mandibular Joint Osseous Changes in Patients with Anterior Open Bite: A Prospective Study." Dr. Nejat, a native of Mashhad, Iran, received his dental degree at Mashhad University of Medical Sciences in 2013. He received his masters in biomaterials from the University of Alabama, under the joint supervision of Dr. John Burgess and LSU.

Allyn Lacombe, second-year student, is one of four recipients of the 2019 ADA Foundation Dental Student Scholarships. Valued at $20,000, the scholarships recognize dental students who are strong academically and demonstrate outstanding promise in leadership, public service, and/or research. The awards were presented at the closing ADEA session. A native of Baton Rouge, Ms. Lacombe is a graduate of LSU.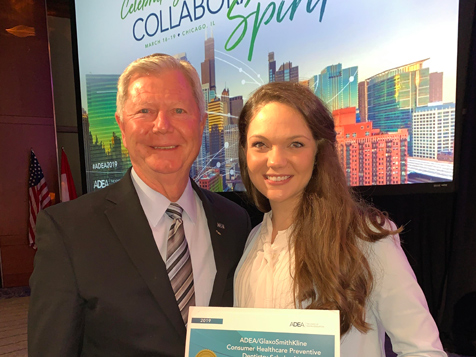 Dr. Gremillion and Allyn Lacombe,
ADA Foundation Dental Student Scholarship recipient