Instilling the Highest Standards
Early in the academic year, LSUSD students are introduced to concepts of professionalism and ethics. Two major events in the fall signify their dedication to the highest standards in patient care and personal integrity.
At the White Coat Ceremony on October 12, second-year dental and dental hygiene students marked the transition from classroom student to clinician. Brian LeBon, DDS, class of 1978, presented the keynote address. An active member of the LSUSD Alumni Association since 2012, Dr, LeBon has also been a major contributor to multiple projects at the school.
Following Dr. LeBon's address on teamwork in the dental office, designated faculty members presented the white coats to members of the class. Class presidents Mason Liles (DDS) and Hannah Ducote (DH) then led students in the recitation of the professional oath.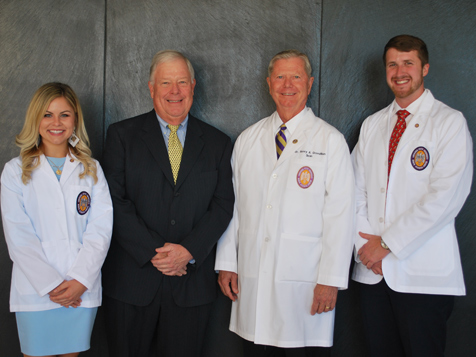 At the White Coat Ceremony, (l-r), Hannah Ducote,
Dr. Brian LeBon, Dean Gremilion, Mason Liles
The Professionalism and Ethics Ceremony, held this year on November 2, stresses the importance of ethical conduct for students and professionals for first-year students in dentistry, dental hygiene, and dental laboratory technology. Maris Burmaster, class of 1993, state chair of the Louisiana Mission of Mercy for the Louisiana Dental Association, delivered the keynote address. Dr. Burmaster is an active member of the dental community and longtime supporter of LSUSD. Dr. Robert Barsley (DDS), Jane Walsh (DH), and Leonard Aucoin (DLT) presented professional pins to students in their respective classes.
Led by class presidents, Tyler Mullins (DDS), Madison Collins (DH), and Jorge Rodriguez (DLT), students recited the professional ethics pledge, addressing personal integrity, professionalism, ethics, and patient care. The pledge, written by members of the first-year classes, is unique each year.
At the Professionalism and Ethics Ceremony, (l-r), Jorge Rodriguez, Madison Collins, Dean Gremillion, Dr. Maria Burmaster, Tyler Mullins
Publishing in the professional literature is an important role of academicians. At LSUSD both basic science and clinical faculty members are actively involved in researching new treatments, reporting on innovative techniques and procedures, and reviewing the body of literature in a specific area. This past fiscal year, from July 1, 2017 through June 30, 2018, a total of 42 articles by LSUSD faculty members in a variety of departments appeared in the professional literature. A selection of articles appears here:
Ballard RW, Hagan JL, Fournier SE, Townsend JA, Ballard MB, Armbruster PC. Dental student and faculty perceptions of uncivil behavior by faculty members in classroom and clinic. J Dent Educ. 2018 Feb;82(2):137-43.
Barsley RE, Bernstein ML, Brumit PC, Dorion RBJ, Golden GS, Lewis JM, Mcdowell JD, Epidermis and enamel: Insights into gnawing criticisms of human bitemark evidence. Am J Forensic Med Pathol. 2018;39(2):87-97.
Beacham JT, Geist JR, Yu Q, Himel VT, Sabey KA. Accuracy of cone-beam computed tomographic image interpretation by endodontists and endodontic residents. J Endod. 2018;44(4):571-5.
Hall RA, Noverr MC. Fungal interactions with the human host: Exploring the spectrum of symbiosis. Curr Opin Microbiol. 2017 Nov 10;40:58-64.
17. King BJ, Levine A. Controversies in anesthesia for oral and maxillofacial surgery. Oral Maxillofac Surg Clin North Am. 2017 Nov;29(4):515-23.
To view the complete list, go to: https://www.lsusd.lsuhsc.edu/Documents/FacultyPublications2017-18.pdf