Alumni Day Marks 50th Anniversary
On August 24, over 350 alumni, students, and faculty members gathered at the annual Alumni Day to celebrate the school's golden anniversary. The day was an opportunity to recognize the nearly 6,000 graduates from the last 50 years and to consider what dentistry may look like in the future. Continuing education topics included technology and the dental practice, how to care for the increasingly aging population, and dental practice models in the coming years. In addition to outside speakers, a few alumni and a student leader spoke about trends in dentistry.
Through video we touched on what has been accomplished in recent years and our goals for tomorrow. Alumni and faculty members spoke about why they choose to support our efforts, and Dr. King Scott, president of the LSUSD Alumni Association, described his passion for dentistry, leadership, and involvement in dental education and community.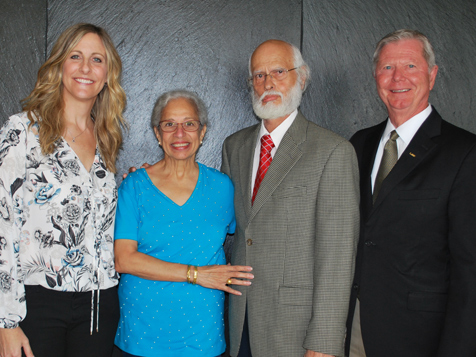 At Dr. Thunthy's retirement party: Dr. Kitrina Cordell, Freeny and Kavas Thunthy, and Dean Gremillion
Kavas H. Thunthy, BDS, MS, MEd, Receives Award and Retires
A highlight of Alumni Day was the presentation of the Shawky Mohamed Distinguished Faculty Award to Dr. Kavas Thunthy, professor of oral and maxillofacial radiology. In over 43 years at LSUSD, Dr. Thunthy has taught more than 4,000 dentists and dental hygienists. He joined the school as an assistant professor in 1975 and was promoted to associate professor in 1978 and to full professor in 1983. The author of Dental Radiographic Diagnosis, a textbook first published in 1988 and still used by LSUSD dental students, he has also published 68 journal articles and lectured in nearly 200 continuing education and scientific presentations. Dr. Thunthy has served on numerous school committees during his tenure at LSUSD and has been an integral part of improving education for all of our students.
This award presentation was especially poignant because Dr. Thunthy retired the following week on August 31. He has, however, promised to teach his course through the end of the current session to help out his department. At his retirement party, Dr. Kitrina Cordell, head of the Department of Diagnostic Sciences, read some of the many tributes to Dr. Thunthy. One student wrote, "He joked, he taught, he made sure I understood. Dr. Thunthy completely encapsulates the saying 'choose a job you love and you never work a day in your life.'"
Support LSUSD with Specialty License Plate
LSUSD now has its own Louisiana Specialty License plate, due to the efforts of Dr. Shu Cheuk, professor emeritus and full-time gratis faculty member. You can show your alumni pride by bidding for one of these plates, but you must have a registered vehicle in Louisiana to participate. All proceeds and the assessed royalty fee of $50 every two years will benefit the LSUSD Rural Scholars Track (RST) Program, established in 2017 to help address the shortage of dentists in rural areas of the state. Proceeds from this auction will support scholarships for students who participate in the RST program.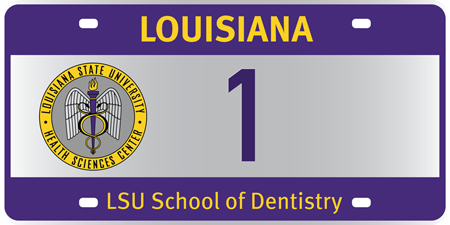 The Louisiana Department of Motor Vehicles allows organizations to bid the first 100 numbers and the founding year of the institution--in our case 1968, the year we accepted our first dental class. For more information visit our home page (lsusd.lsuhsc.edu) and click on the 1968 license plate.
Auction proceeds are tax deductible to the fullest extent allowed by law. You can also gift your plate to someone or back to the school to be re-auctioned at a later date.