Advanced Education Highlights
Advanced Education Graduation
The 2018 Advanced Education graduation ceremony was held on June 22. Twenty-six residents, four fellows, and six interns received certificates from the seven specialty programs of endodontics, general practice residency (GPR), oral and maxillofacial surgery (OMS), orthodontics, pediatric dentistry, periodontics, and prosthodontics. Residents in all programs except GPR and OMS also received a master's of dental sciences.
The keynote speaker was Robert W. McMinn, DDS, who served as a part-time faculty member in the Department of Orthodontics for 25 years. A graduate of the last class of Loyola Dental School in 1971, he received his orthodontics certificate from LSUSD in 1975. Dr. McMinn retired from LSUSD and his private practice in 2013. After working for two years as a part-time faculty member in the Vanderbilt orthodontics department in Nashville, he is now enjoying full retirement in the Florida panhandle.
During the ceremony, Dr. Tom Wen announced recipients of awards for oral presentations and posters from Research Day on May 18. Dr. Brent Benoit, orthodontics, won the Dr. Robert B. Brannon Research Award for first place. Dr. David Long, periodontics, won second place; Dr. Jyoti Sonkar, periodontics, won third place; and Dr. Amir Nejat, prosthodontics, won the award for best poster.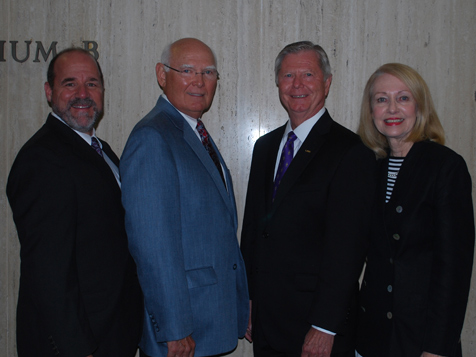 (l-r) Dr. Paul Armbruster, orthodontics department chairman; keynote speaker Dr. Robert McMinn; Dean Gremillion; and Dr. Sandra Andrieu, director of advanced education
Faculty Transitions
At the end of June LSUSD bid farewell to Janice Townsend, DDS, MS, chair of the Department of Pediatric Dentistry, who was named chair of pediatric dentistry at The Ohio State University College of Dentistry. Dr. Townsend received her DDS from Marquette University School of Dentistry in 2005. Two years later, she completed her master of science with a certificate in pediatric dentistry at Columbus Children's Hospital and The Ohio State University. A member of the LSUSD faculty since 2007, she was named interim department chair in 2010 and chair in 2014.
Suzanne Fournier, DDS, assistant professor, has assumed the position of interim chair of pediatric dentistry in addition to her role as director of the department's advanced education program. A graduate of the University of Michigan School of Dentistry, she received her certificate in pediatric dentistry from the University of Florida in 2008. Dr. Fournier joined the LSUSD faculty in 2014.
Angela (Toula) Palaiologou-Gallis, DDS, MS, director of the periodontics advanced education program since 2009, will leave LSUSD at the end of August to join the periodontics faculty at the University of Texas at San Antonio; her position will be assistant director of the periodontics advanced education program. Dr. Palaiologou received her DDS in 1995 from the National and Kapodistrian University of Athens School of Dentistry, and her certificate in periodontics and MS from LSUSD in 2000. After seven years in private practice in Greece, she returned to LSUSD in 2007 to join the periodontics faculty.
Pooja Maney, BDS, MPH, PhD, associate professor, will replace Dr. Palaiogolou as director of the periodontics advanced education program. Dr. Maney, who received her BDS from Kuvempu University in India, joined LSUSD in 2009 after completing her training in periodontics and her PhD in Oral Biology at The Ohio State University. She has been director of both undergraduate and postgraduate periodontics courses.
Congratulations to the following faculty members who received promotions, effective July 1, 2018:

Angela Palaiologou-Gallis, DDS, MS
Professor, Department of Periodontics
Francis Thomas Giacona, DDS
Associate Professor Clinical, Department of Comprehensive Dentistry and Biomaterials
Thomas E. Lallier, PhD
Professor, Department of Cell Biology & Anatomy/Dentistry
Zezhang "Tom" Wen, PhD
Professor, Department of Comprehensive Dentistry and Biomaterials