Above and Beyond: Student Service

At the Louisiana Mission of Mercy (LaMOM), held on January 18-21, in Baton Rouge, of the 1404 patients who came for free medical, dental, and vision services, 955 received free dental care. Seeking to deliver quality dental care to the underserved population of Louisiana, LaMOM partners with dental team members and lay volunteers in a free temporary dental clinic. The LDA Foundation, together with partners such as LSUSD, the Louisiana Dental Association (LDA), and America's Dentists Care Foundation, hosts LaMOM. The temporary large-scale dental clinic serves to treat adults and children who have limited financial resources or are otherwise unable to visit a dental office. LaMOM takes patients on a first-come, first-served basis.

Over four days, volunteer dentists, hygienists, assistants, students, and community workers from across Louisiana provided services such as exams, X-rays, cleanings, fillings, anterior root canals, extractions and anterior transitional partials. LSUSD students from every class participated; 60 students from the senior dental class worked there and dental hygiene students did most of the sterilization. Numerous faculty members also participated.

In a thank-you message to LSUSD, Dr. Maria Burmaster, LaMOM State Chair for the LDA, wrote, "This is a short note to express my tremendous gratitude to all of you for carrying us through the event this past weekend. No words can convey how proud I am of my alma mater after experiencing the professionalism and will to serve those in need that was displayed from every level of LSU Dental School."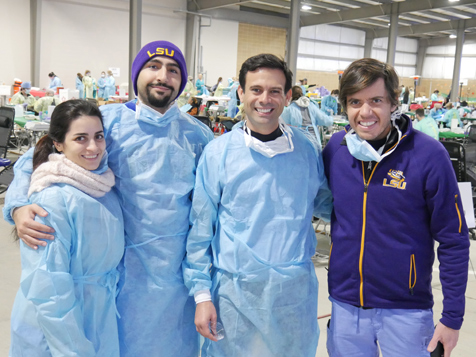 LaMom participants Drs. Nasrin Danaeifar, Amir Nejat, Luis Infante, Luciano Retana
The Urban League of Louisiana's Annual School Expo is the largest school choice event in the city of New Orleans. This year the free event, open to the public, took place on Saturday, February 3, on the field of the Mercedes Benz Superdome. In addition to education providers, the Expo featured STEM activities, games, and health screenings. LSUSD students Tyler Mesa, Seth DeJean, Kimberly Truong, Ann Marie Simon, and Akia Davis handed out 150 bags with toothbrushes, floss, toothpaste, and information on becoming a patient at the dental school. Also, with the aid of puppets and hands on activities, students discussed proper nutrition and habits necessary for good oral hygiene.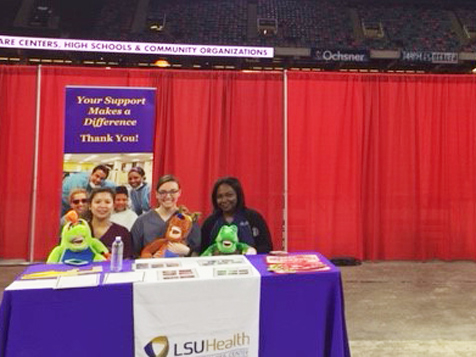 Kimberly Truong, Ann Marie Simon, and Akia Davis at the Urban League Schools Expo
Special Smiles-Special Olympics is a component of the Special Olympics Healthy Athletes® initiative. Founded in 1996, this program is designed to help athletes improve their health and fitness and their ability to train and compete in Special Olympics as well as in life. Special Smiles is one of seven Healthy Athlete programs sponsored by Special Olympics International. Special Olympics Louisiana (SOLA) hosts its Special Smiles Program in conjunction with several yearly state events. The Special Smiles Program, designed to evaluate special athletes' oral health status, includes a visual exam with treatment recommendations, oral hygiene instructions, fabrication of a sports mouthguard, and oral hygiene bag distribution. As LSUSD outreach coordinator, Jennifer Hew, RDH, MSHCM, associate professor of comprehensive dentistry and biomaterials, manages the Special Smiles program for LSUSD.

One Special Olympics local event is the annual Unified Sports LSU–Tulane Rivalry basketball game, held on February 3, at the Tulane University Fogelman Arena. LSUSD students Brandon Allison, John Daigle, Jeffrey Kerst, Dayton Prudhomme, Eddie Starr, Evan Tatford, and Stephen Tyer teamed with Jefferson Parish Special Olympic Athletes. The Tulane team included Tulane University students and Orleans Parish Athletes. This year LSU defeated Tulane 26–16.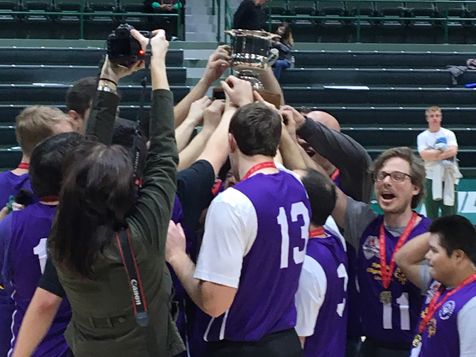 The LSU team celebrates its victory at the Special Olympics Unified Sports basketball game